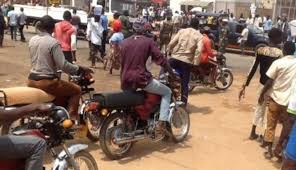 Okada Riders attack burn Engineer in Lagos
By Kehinde Doherty, Lagos
Motorcycle riders in the Lekki area of Lagos have attacked and burnt a resident. The Okada Riders pounced on David, a Sound Engineer. He was beaten before his body was set ablaze.
In a statement on Monday, Organising Secretary, Oodua Liberation Movement, (OLM) Mr Sunday Akinnuoye said the attack may signal the beginning of greater conflict in the South West unless the State Governors take active steps.
The violent took place on Admiralty Way, Lekki, where David was scheduled to conduct a social event.
The deceased had disagreement over fare with the Okada rider which resulted into a fight. Colleagues of the Okada Riders gathered to attack David. After a bloody attack on him, he was set ablaze.
David's two friends, Frank and Philip who were nearby were also attacked before they escaped.
One eye witness told Irohinoodua that the attackers were of Northern extraction.
"They were extremely boastful and violent. They sought petrol from their Okada and set the innocent man ablaze'
Sources told Irohinoodua that some of the perpetrators have been arrested by the police. A police official who die not wish to be named said the security operatives will arrest and prosecute the killers warning Nigerians not to ethnicise the attacks