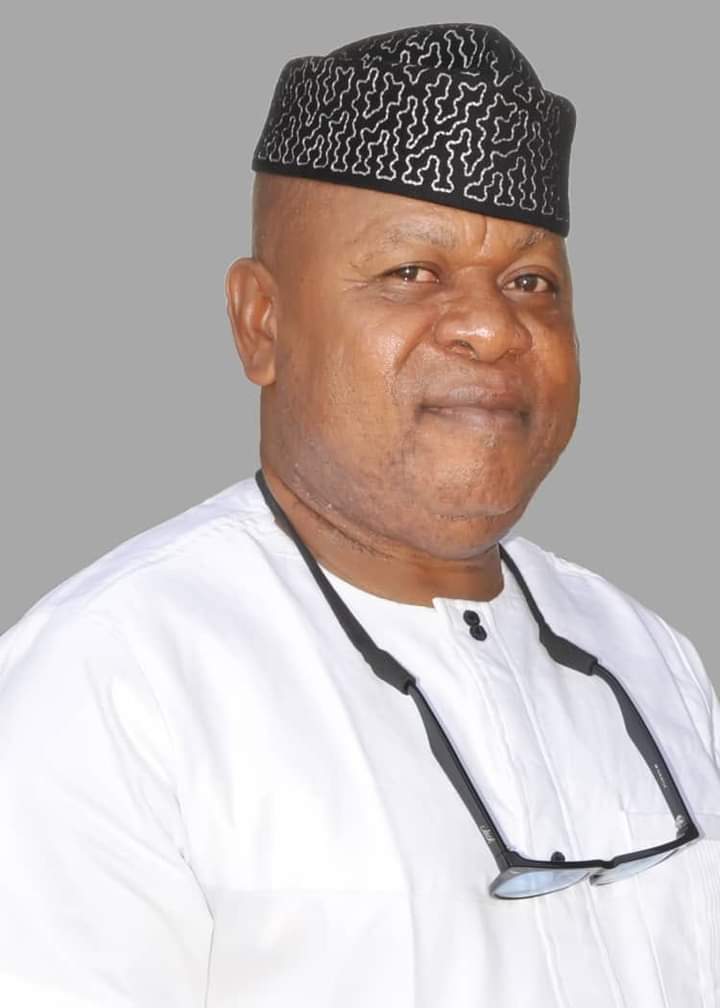 Of Yahoo Politics And Ekiti 2022  Guber Poll Gambit
By Wole Olujobi
It was found. It was discovered famished. Jaded. Exhausted. Fatigued. Disoriented. Wearied. This tired horse was marooned and left munching on a scanty  hay. After its rescue, it was nurtured in the waterless meadow by a band of political wanderers; a frail husbandry for an orphan in pains. After some nomadic politicians found him gasping for breath and took him to  the willow for first aid for survival, it emerged feebly baying for power. Such is the nightmarish impulse of this ailing hack.
In the Nigeria's current political dispensation,  the Social Democratic Party (SDP) with its horse totem is generally viewed as an ailing horse in transit in a political journey to nowhere.
But then this horse is a desperately ambitious ass trying in vain to turn the table against the fortress of established parties that have men and widespread memberships. Nonetheless, you cannot blame this ambitious horse of dubious fate. At resurrection after its first coming gone awry in 1993 during which political undertakers with their long knives chiselled soul out of its skin,  this hack has now become audacious, desperate but without energy to seize the throne.
Like most of our ambitious and desperate Yahoo Yahoo boys with extremely humble backgrounds but are now upstarts in social circles, this sick horse in white coating, lapsing on an exaggerated nobility, is desperate to appropriate the ever-budding energy of a bufallo in the fight  for survival in the Nigeria's complex political firmament.
To achieve that, they have some tricks up their sleeves to dupe susceptible  political players, including a bloc of the unsuspecting electorate, by selling a dummy of a Lagos largess that will make them instant millionaires during campaigns. But it is all a hoax: Lagos will not sell her patrimony cheaply to political nomadics that do not share ideological orientation with  the All Progressives Congress (APC). That is a suicide that has no redemption!
An old matrix says you cannot build something on nothing. But not in the Yahoo world! In the Yahoo world, you can come from the poorest of lowly background or arm yourself with nothing to earn a living,  but the next moment, devotees in Yahoo accoutrements can be seen driving around in posh cars after working the brains of their victims stiff.
Now building something on nothing, like Yahoo boys, SDP promoters are working the brains of their victims to the limits, luring them into schemes that are reasonably difficult to define until they face the reality that they have been swindled out of their wits.
This is the game playing out in Ekiti State SDP in the run up to the June 18, 2022 crunch governorship election, which APC is better placed to win to consolidate power to continue the current development agenda of Governor Kayode Fayemi.
Like Yahoo boys, the sick horse dealers are going about in bloated egos across the state falsely divining election victory in the June 18, 2022 poll. And in magisterial swagger, they have donned the Yahoo garb,  deceiving Ekiti people about a massive election war chest coming from Lagos to prosecute Ekiti governorship election to ensure victory for SDP for the benefit of members. That is SDP's cardinal campaign issue to deceive their "mugus"  and the unsuspecting victims have already readied their watering mouths for the Lagos manna that has not come and that will never come.
Like in the Yahoo boys' world, the game to swindle the 'mugu' is complex and always difficult to fathom. The tossing around is also always endless. The content is the same but the plot structure is etched on a complex graph that defies logic, to confuse and confound the unsuspecting partisans  until they realise the reality of their unrealistic ends in the hands of political predators.
Pray, what business do Ekiti State SDP's oligarchs have with PDP national leaders, such as Generals Ibrahim Babangida and Abdulsalami Abubakar (rtd), in Minna other than canvassing for the oiling of the old ambition's ladder of Ekiti SDP.promoters who are desperate to seize control of PDP in Ekiti State again after the ruthless Ayo Fayose chased them out of PDP?
We may also ask: is it true that the chief SDP oligarch, after winning his governorship ticket, also allegedly met Governors Nyesom Wike, Okezie Ikpeazu, Seyi Makinde and Ifeanyi Ugwuanyi, all in PDP, to allegedly help oil his election campaign machine?  Why did SDP promoters not visit leaders of other political parties except those in PDP? Truth is that the greatest political problem among Ekiti SDP partisans is Fayose and so outside help is being sought to grab power in proxy for PDP to chase Fayose down the valley for allegedly working secretly for the APC National Leader.
Can PDP national leaders, such as IBB, be plotting against Ekiti PDP that is struggling to seize power again in the June 18 governorship election? Are Ekiti SDP promoters not in a complex game to bolster their nest and then bolt back to seize control of PDP in Ekiti State in a game to outwit Fayose? Are they aware that they are rebelling against themselves?  Do the new SDP recruits realise that they are being led by the nose and blindfolded into an expansionist scheme by SDP ptomoters to seize control of PDP in Ekiti State? Or what are the roles of top PDP leaders in the current shadow-chasing in the June 18 election in aid of SDP for illusory victory in Ekiti State?
Just like in the Yahoo world,  baits from Abuja and Minna are being dangled in the faces of the unwary new recruits for the non-existent Lagos booty.
They will soon realise that they are just a cannon folder in a dubious scheme for political domination in PDP after they become slaves to their indiscretion and poor judgment fuelled by greed, disorientation and contradictions in Nigerian politics; a Kafkaesque syndrome that makes  reality very unrealistic.
Frantz Kafka, a proponent of classic  dealienation sensibility in his book "Metamorphosis" presented to the world the reality in the world of illusion. His protagonist, Gregor, just like the new Ekiti State recruits into SDP,  is a slave to Kafka's society. In fact, he is worth just the life of an insect.
Gregor, in the mould of an insect,  is only useful to his society when the need arises for the selfish purposes of the oligarchs just like the unsuspecting and self-annihilating new recruits into Ekiti SPD today are useful in the secret scheme couched on the artistic genius of the SDP oligarchs to return to PDP to dominate the party now in firm grips of Fayose.  After seizing power (which will ultimately not happen), the new recruits into the SDP's bondage will now wake up to the reality of the Kafka world.
Now a word for the new non-PDP defectors to SDP:  you have no idea of the motives of the SDP promoters.  You are in the dark working against your own interest, plotting your own political downfall and blotting your political image and future with the brush of ignorance as you hook on to the bait of SDP's stratagem.
* Olujobi writes from Ado-Ekiti