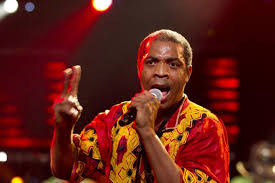 Obi's Supporters threaten my family, vow to burn down Shrine, says Femi Kuti
By Samuel Ogunsona
Fela Anikulapo Kuti's first son, Femi has said he and his family have received death threats from supporters of Labour Party,(LP) Presidential aspirant, Mr Peter Obi.
The raging supporters also threaten to burn down the historic Shrine once visited by French President, Je pen. Meanwhile, a Pan Yoruba group, Oodua Salvation Front,(OSF) has warned Obi's supporters threatening to attack Femi to be prepared for proportional response from the Yoruba people.
Femi who spoke in a clip made available to Irohinoodua said he had earlier referred to those who claim to be Obedient to be conservatives who are not revolutionary enough to challenge the status quo.
To be obedient means to obey the rules made by the people-s enemies he said.
Femi said he is not in support of Obi neither does he support the All Progressives Congress, (APC) Presidential candidate, Asiwaju Ahmed Tinubu and the Peoples Democratic Party, (PDP) candidate, Abubakar Atiku.
"We are taking notes of rabid outbursts by some renegade elements who are threatening people of the South West because of Obi. We are taking notes. Our response to them will be swift and decisive and in more than proportional manner" Julius Agbaje, OSF Assistant General Secretary said in a statement on Saturday.
Femi said his opposition to the three aspirants stem from the fact that non of them offer any genuine hope to liberate Nigerians.
He said, ''I woke up to insult today, my family and myself being threatened that they will burn down the shrine because they said I told them Peter Obi supporters are zombies. What did I really say? I said I am too angry, sad, depressed to be Obedient, how can I be obedient in this country where my father's house was burnt, my family are depressed, my grandmother was killed. How can I be obedient?
I went on to say that Obi himself was friend with Atiku when he was Atiku's Vice President which means they are together. Did I call peter Obi supporters zombies? No!''
''I do not support Obi, Atiku nor Tinubu. I have never ever support any of this people before. My family is heartbroken. If Obi changes the situation of Nigeria, we will all be happy and jubilate but that doesn't mean I shouldn't have my doubts on these candidate's.''
The world class musician explains why he can not be obedient in this Nigeria.
He said it is due to many reasons especially for his heartbroken who have been heartbroken by the various Nigeria governments.
''Nothing can make me obedient in this country. I am too sad to be obedient. Do I like Atiku or Tinubu? Tinubu raided the shrine many times'' he added.
He said those threatening to burn down his Shrine should realise that if they have the right to support Obi, he also has the right to oppose Obi and all the three Presidential aspirants.
If you have the right to support Obi, that is your right. I have th right to oppose all the aspirants, Femi said