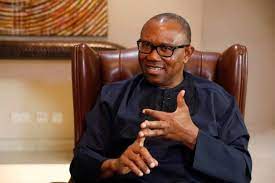 Obasanjo endorses Peter Obi: Why all the fuss
By Femi Kusa
Who else do the critics of former president Olusegun OBASANJO expect him to endorse for president in 2023. He wishes to be able to freely ride in and out of every cabinet and relate with a president who is forever grateful that he became president on Obasanjo's ticket.
Obasanjo told us in 1979 the best candidate does not necessarily win elections. Between Chief Obafemi Awolowo and Alhaji Shehu Shagari, Awolowo was the better candidate.
Obasanjo's government supervised the election. Awolowo was edged out by the supreme Court in that controversial 12 two thirds judgement the court ruled later should be removed from Nigeria's judicial history. If he won, Awolowo was going to probe Obasanjo's military government. Who, therefore, does not know where a piece of meat hidden in the mouth disappears into? Awolowo was his own man. No one could push him around. Obasanjo wanted a weakling, a simpleton. Awolowo was neither.
In 1993, Chief M.K.O Abiola, a Yoruba like Obasanjo and Awolowo, won a land slide victory in Nigeria's freest presidential election.
Obasanjo, now an ex-president, far away in South Africa, condemned the polls by saying Abiola was not the "Messiah" Nigeria was waiting for! The military had annulled the election, claiming pressure from among the Yorubas in South-West Nigeria.
Abiola, like Obasanjo was a Yoruba! It would appear Obasanjo wanted no Yoruba to come after him as a Nigerian President. Some of his critics say he is egocentric. He doesn't mind them. Some say he is bitter that Yorubas do not accept him, a soldier, as their leader, although he became Nigeria's president, even if through a coup, a position their leader, Awolowo, failed to attain, despite his education, legal fortitude, financial, economic and social sagacity.
The northern oligarchy knows the roadmap and what some Obasanjo observers say is "hatred" for his own people. The oligarchy wanted to quieten the restlessness which Abiola's death in the prison custody of their son, Gen. Sanni Abacha, caused among the Yorubas. They wanted a replacement for Abiola who would be their friend and manipulable. The North asked Yorubas to present a candidate. They presented Olu Falae, an Awoist. The north presented Obasanjo. Obasanjo lost the election in the polling booth in front of his house in Abeokuta. He massively lost the election also, in all the Yoruba states (Lagos, Ogun, Oyo, Osun, Ondo and Ekiti). He massively won in the east and in the North. In Akwa Ibom state in the South-South, the votes for Obasanjo were more than the population of the state. Jimmy Carter, former American president and friend of Obasanjo who was an election observer, returned home without congratulating him!
Thus, in 1999, Obasanjo became civilian president without a home base. His critics taunted him about this. Thus, for his second tenure from 2003 to 2007, he won the Yoruba states, except Lagos State where Bola Ahmed Tinubu was governor, through all sorts of means incongruent with free and fair elections. Tinubu, a political maverick, had warned his fellow governors federal might may displace them if they did not stop hobnobbing with Obasanjo. Tinubu and Obasanjo as president would politically collide when, as governor, Tinubu created more local governments in Lagos to earn more income for the state from the federal purse, claiming that Kano state, with no more than the population of Lagos, had about two time its local governments.
Obasanjo said Tinubu's action was unconstitutional. Tinubu said it was constitutional. The matter went to court. But the Supreme Court judgement was ambivalent, paving the way for Obasanjo to roll federal power crushingly on Lagos State and it's peoples, never minding that Lagos was a prime or star Yoruba state and the pride of Yoruba people crying for freedom in a Nigeria over which he, a Yoruba, Obasanjo, was President! This anti-Yoruba strategy is seen by Obasanio critics as a ploy by him to pretentiously and egocentrically market himself as a detribalised Nigeria and a true friend of Ibos and the Northerners. He would stop at nothing to emotionally or politically hurt or injure yoruba interests to push his personal agenda.
Rather than Obasanjo addressing this local government allocation anomalies by the constitution and other incongruencies in the Nigerian make up, he decided to punish Lagos State by withholding funds from it until its government reverted to the constitutional local government karma of the state. A Supreme Court judgement on the face off was, as usual ambivalent.
To Obasanjo's shock and, perhaps disgrace, Bola Tinubu sourced money for Lagos State from sources Obasanjo hardly imagined existed. Thus, Lagos had much more money than OBASANJO was providing.
The question today is: CAN OBASANJO STAND A MAN LIKE THIS AS PRESIDENT? Will Obasanjo be able to penetrate a presidency of Tinubu?
Trying to disparage Tinubu as EMI L'OKAN ( It is my turn) without stating the circumstance in which Tinubu made the statement, is mean in my view. Buhari and Tinubu had a political deal for him to succeed Buhari. Is it wrong for politicians to strike deals? If Tinubu and Buhari's camps struck a deal to make Buhari president, is it wrong for Tinubu at a meeting of his political party, the APC, to remind Buhari's camp that it was his turn, and not that of any other member of that camp, to become president after Buhari? Without Tinubu would BUHARI have become president? If Tinubu had an agenda for Nigeria, was it not wise to forge a pact with Buhari and wait for his "turn" as per their agreement? In any case, why did Obasanji fail to mention AWA L'OKAN (It is our turn) in the credentials of Peter Obi, an ibo, whose people have been violently disturbing the nation that AWA LO KAN (It is our turn) to be president. Has Nigeria's presidency become an ethnic cash and carry nation?
Obasanjo cannot endorse Atiku Abubakar for the reasons we all know. He is impenetrable by Obasanjo. Irrespective of the noise over Obasanjo's endorsement of Peter Obi, this man has to work very hard to penetrate the South West, South South, the Northern zone and even his South East zone. Only TIME will tell if he can do this. Political victory is all about political structures. Gani Fawehmi lost the governorship in Ondo State despite his popularity Nationwide on newspaper pages, radio and television because he had no solid political structure. Femi Falana similarly failed in Ekiti state. Gen Yakubu Gowon (rtd) lost in a constituent Assembly election to a cattle rearer, although he had been military Head of State for almost nine years. He had no political structure. The cattle rearer was "on the ground". This is real politik, not media power. The political and other elite in Ibo land are not solidly behind Peter Obi. Even the governor of his state, Anambra, is demarketing him. Obasanjo needs to push Peter Obi to prove to the international community that he is still relevant in Nigerian politics. Politically derived in Nigeria, Obasanjo feels inwardly and outwardly empty and needs to reassure his friends abroad that he still has some political weight at home. They ascribed some weight to him because they erroneously thought he voluntarily transformed Nigeria from a military state to a civilian state in 1979. They did not realise that the North beared its teeth at him. Infact, Gen T.Y Danjuma and Gen Shehu Musa Yar'Adua both his subordinates in their supreme military council (SMC), announced Alhaji Shagari as president elect while Obasanjo was on a Northern thank-you tour. They did not wait for him to return to Lagos for them to have a meeting on this crucial matter before they staged a palace coup against him. Obasanjo leaked his wounds. Did he have any choice in the matter? Did he place himself as their leader or they placed him? What was left for Obasanjo was to do whatever was left for him to do with his broken ego, and that was to market himself to the international community as a rare African leader who voluntarily relinquished power. Although he succeeded in this for a while, the international community could not be fooled for a long time. He made a bid for the office of the United Nations Secretary General, believing he was popular abroad. But he failed in the bid. He has tried to keep himself going abroad with his African leadership forum which is still giving him some pep. But, back home, the political shine is almost gone. Therefore, Peter Obi should work harder at realising his ambition and not relying too much on Obasanjo's props.