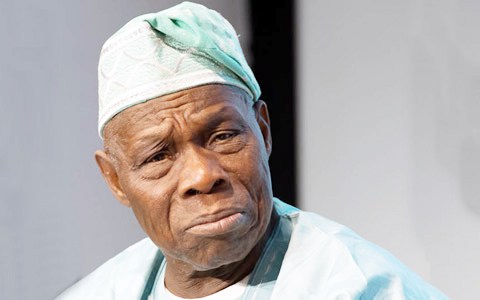 Former President Olusegun Obasanjo has sent condolences to the family of Ogun State politician, Mrs Titi Ajanaku. The late politician was star actor in Ogun and National politics until recently when her activity dimmed.
In the condolence message gotten by Irohinoodua correspondent Obasanjo said "It was with a deep sense of personal loss that I learnt about the transition to eternal glory of your beloved matriarch, Chief (Mrs.) Titi Ajanaku, and a woman of great substance in her own right on December 4, 2019."
The former President added that It is understandable that Ajanaku and other members of her family would feel a keen sense of loss at the passing of one who had for many years served as mentor, confidant for the family and a trained Nurse, where she must have catered for and consoled others in their own hours of need; a mother and a grandmother who counselled those who came across her.
He said "I am hoping that the good memories of your mother will be a comfort to you all while you grieve this loss. You should know that my family and I are keeping you in our thoughts and prayers.
"I remember vividly one of my memorable encounters with Chief (Mrs.) Titi Ajanaku, when she accompanied a group of politicians led by Chief S. M. Afolabi of blessed memory to my Abeokuta residence to persuade me to contest as President of Nigeria. It was partly their persuasion and that of other groups alike that later yielded my final submission to contest for the office of the President of Nigeria."
Obasanjo said in her lifetime, Chief (Mrs.) Ajanaku had a genuine desire to contribute her quota to building a better society through advocacy for fundamental human rights and service to humanity. She was an activist dedicated to the cause of protecting the rights of women within the context of culture, policy and law. An advocate of gender balance, she remained mindful of those fundamental responsibilities of women which remain critical to family life and family stability. All of these culminated in my appointing her as my Special Adviser on Women Affairs during my administration as the President of the Federal Republic of Nigeria and she creditably acquitted herself in every assignment given to her. Indeed, shortly after her appointment, it was easy to recognize her notable qualities of work ethic and commitment to public service. She bore the responsibility of proving her mettle with the consciousness that her success would create opportunities for other women. As an exemplary patriot, her rare courage and contributions laid a solid foundation for Ogun State and for Nigerian women to take their rightful position in our nation's polity. To women, she occupied a special place as a mother, role model and source of inspiration, a redoubtable champion and defender of women's rights.
He said "We, therefore, join you in thanking God for such a life spent in touching so many other lives positively. Her memory will remain evergreen in Ogun State, Nigeria as a whole and beyond for performing her duties with integrity and quite efficiency as well as with generous disposition, magnanimity and unstinted love for the people.
"As we bid her goodbye, we must resolve that her great labour of love shall not be in vain."