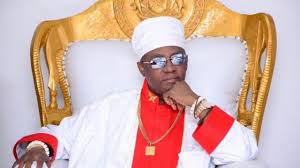 Oba of Benin visits ancestral home Ile-Ife for first time
By Samuel Ogunsona
The Oba of Benin, Uku Apolopolo, has paid a royal visit to his ancestral home in ile-ife.
He was hosted by the Ooni of Ife, Oba Adeyeye Enitan Ogunwusi who welcomed him to the ancient town where Oduduwa reigned in the 9th century.
Irohinodua gathered that his visitation Saturday was his first time since he ascended the throne.
Until recently, Obas of Benin were taken to Ile Ife to be buried when they Waja, and indications that Ile Ife remains the roots of Benin Royal heritage having been founded by Oranmiyan, one of the great grandchildren of Oduduwa.
There were culture and traditional displays at Ife to herald the Royal visit.
In his remark, Oba Uku Apolopolo commended the Nigeria President, His Excellency Mohammodu Buhari, for giving urgent attention to the security issue in the country.
He also expressed concern about innocent souls who are being kidnapped on a daily basis, armed robbery and illegal migration in the country.
He urged the President to do more ij tackling the insecurity issues affecting the development of the country for a peaceful coexistence in the country.
He said ''I feel very much at home here, I pray that the spirit of our father Oranmiyan will always be with you as you manage this very sacred throne of Oduduwa very admirably.'
Oba Enitan Ogunwusi who at the event presented gifts of artifact showing that hunting is a traditional profession of the Oodua descendants also declared that both Ife and Benin kingdom belongs to a single family.
"If not for the time constraint, I would have loved us to visit where Oranmiyan was buried. He was the world's foremost hunter and that's what this artifact represents. He was a Prince of Ile-Ife who went to be the first king of Benin, he went to become the first king of Oyo and came back to become the sixth King of Ile Ife, where he died and was buried.
"This visit will be used to solidify our relationship. Ife will continue to protect what belongs to us as people of similar heritage. I thank you for keeping Benin culture and tradition intact. Without culture, we can't grow as a nation."
Reacting to what Oba Ewuare said about security challenges in the Northern part of the country, Ooni Ogunwusi said royal fathers must assist the political leaders in the country the more, in tackling security infractions across the country.
He added that community policing should be adopted with royal fathers playing a prominent role, using their subjects to monitor their domain.
The two monarchs later visited "orun oba ado",an heritage site which used to be the burial ground for the departed kings of Benin until about two hundred years ago in order to pay homage to all Benin kings believed to have been buried in the place, the culture that only ceased in about hundred years ago, when the practice was stopped.
Prominent traditional rulers and notable indigenes of Ife, who joined the Ooni to receive the Benin monarch are the Orangun of Ila, Oba Wahab Oyedotun, Alara of Ilaramoko Ekiti, other traditional rulers, Former Minister of Water Resources, Alhaji Isola Awotorebo, Former Nigerian Ambassador to Cuba, Senator Segun Bamigbetan Baju, Obasewa of Ife, Chief John Odeyemi, Hon. Rotimi Makinde and a host of others.
The Oba of Benin's visit is coming thirty seven years after the last visit of an Oba of Benin as late Oba Of Benin Oba Ereduiwa visited Ile-Ife in 1981 to visit same Orunobado and Oranmiyan shrine.
Ooni Ogunwusi later led his guest and his entourage to the Government house in Osogbo to be hosted to a dinner reception organized by the Governor of the State of Osun, Ogbeni Rauf Aregbesola.