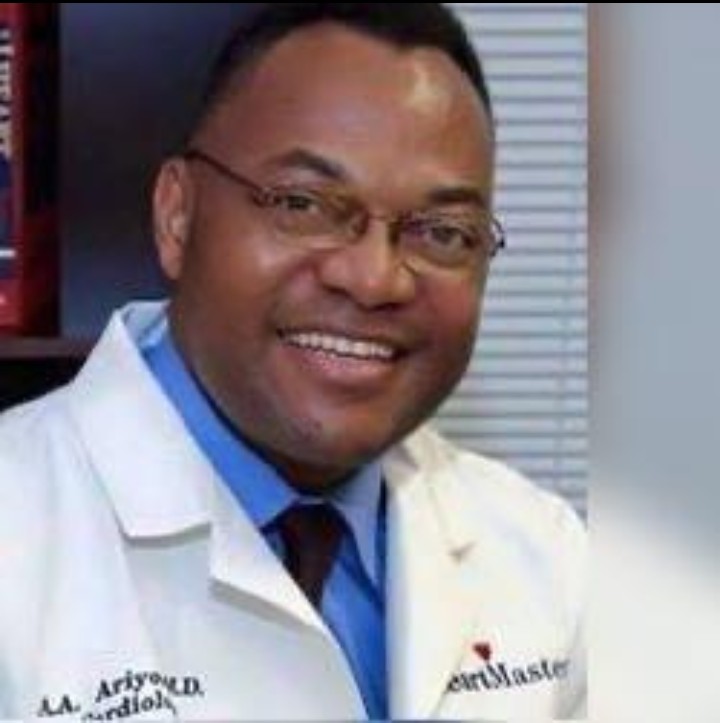 Nigeria's oldest varsity, UI Medical Alumni elects Ariyo as President
By Samuel Ogunsona
The Alumni medical association of Nigeria's oldest and one of the country's most prestigious school, University of Ibadan has elected a renonwn medical practitioner as its President.
Professor Adeniran Ariyo was elected in a keen race that saw many competitors from the rich rainbow Alumni of UI who are established professionals across the United States.
Ariyo was said to have been selected based on his astonishing credentials, his honesty, dedication to work, integrity and above all his meritorious service to humanity in the field of health spanning several decades even at his fairly young age.
Many of his colleagues and teachers also describe him as a "family man, a care giver, a life defender" whose entire life has been dedicated to "saving souls."
With his election, Ariyo will now lead the biggest Afro-American medical association which history began in 1948.
The association is reputed to be the biggest African Alumni medical association in the world.
Ariyo has a cherished, intainted career. He is a cardiovascular physician, educator, scientist, author, business owner, administrator, philanthropist and leader graduated in the upper echelon of the UCH class of 1988 with distinction in Anatomy. His American journey began as a research assistant in the hypertension and metabolic research unit at UCLA, followed by clinical Residency in Internal Medicine and Chief Resident at Howard University in DC. Bestowed with honors and awards in recognition of his contributions followed as Institutional Representative at the American College of Physicians (1994) and National Medical Association (1995). He became the recipient of the National Research Service Award (NRSA), an honor that took him to Harvard. There, as Cardiovascular Research Fellow at The Brigham and Women's Hospital, Harvard Medical School, Boston, he worked on the Physicians Health Study, a landmark study that changed the practice of medicine globally by showing the benefit of Aspirin in preventing Myocardial Infarction. He concurrently obtained Master's degree in Public Health (MPH) from Harvard University in 1996. This propelled him to complete a General and Nuclear Cardiology Fellowship at the University of California where his research prowess secured a Finalist slot in a statewide competition among Cardiology Fellows for the prestigious Giannini Foundation Award in California. He topped his tour of top US medical institutions with an Interventional Cardiology Fellowship at The Johns Hopkins Hospital in Baltimore, MD from 1999-2000.
In 2000, he founded HeartMasters Cardiology where he currently serves as Director. He is an Interventional Cardiologist at Baylor Scott & White Medical Center in Sunnyvale, Texas, a facility that he co-owns. He has served as Chief of Cardiology at several Hospitals in Dallas where he has directed and performs coronary, renal, carotid, and endovascular interventions with balloon angioplasty with stents and other advanced techniques. In addition he offers pacemaker, defibrillator, and biventricular AICDs implants. He has published extensively with publications in Annals of Medicine, Archives of Medicine, Circulation, Journal of Cardiovascular Risk/European Journal of Cardiology and The Journal of The American College of Cardiology (JACC). Along with others, he made landmark contributions to the advancement of Modern Medicine. In 2003, he was the lead author of an 'original contribution' in the lead article that was published in the world's most renowned medical journal, The New England of Medicine. He once and for all, provided critical data on the effects of Lipoprotein (a) and vascular risk and mortality among elderly Americans.
Dr. (Professor) Ariyo is generous to our College. On the occasion of our 30 year reunion at the College, he matched dollar-for-dollar, and instantly doubled the contributions from our class. In 2018, he hosted the ICOMAA meeting in Dallas, including an evening, personally underwritten, on an All-White 'Yacht Party' on Lake Grapevine in Dallas. Importantly, he continues to be dynamic, interested and generous with much left to contribute.
Therefore, on behalf of the class of 1988, I wholeheartedly nominate and support his candidacy for the position of the 'Vice President / President Elect' of the Ibadan College of Medicine Alumni Association, North American Chapter without any reservation