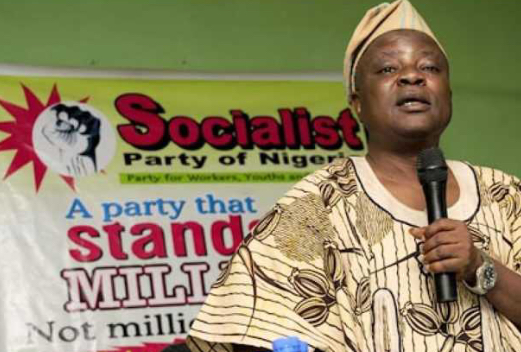 Nigeria's die-hard Socialist, Segun Sango dies at 64
By Samuel Ogunsona
The prospect of progressive politics and Nigeria becoming a Socialist State suffered a blow on Monday. One of the country's finest Marxist, Segun Aderemi is dead.
Segun (Sango), the god of thunder in the Socialist firebrand campaign which he led and earned the name Sango died at 64 years after a protracted illness spanning more than one decade.
Sango battled complications arising from stroke. He gave a good fight but lost to death on Monday, family sources told Irohinoodua.
One of his soul mates, former President of National Association of Nigerian Students, (NANs) Mr Lanre Arogundade, who had remained close to Sango until his dying days, broke the sad news. He said the entire Socialist community remained heart-broken by the death of Comrade Sango.
Aderemi of Madakeke, Osun State origin left the famous University of Ife in 1983 as a lawyer. His Marxist tendency followed their global icon, Leon Trotsky, a Russian Jew and the father of International Revolution who was hacked to death in Mexico by agents believed to be acting on behalf of Josef Stalin, the then head of the defunct Soviet Union.
Sango and his comrades set up an ideological centre in Agege area of Lagos and the centre remains the only living training centre for Marxists in Nigeria and perhaps, his group, the Socialist Democratic Movement, can be said to be the only group in Nigeria genuinely committed to the future of Socialism in West Africa. His trained cadres are often seen hawking Marxist literature across factories in Nigeria, a trademark the group had sustained for more than a quarter of a century.
Sango dedicated his blood, his veins, his artery, his head, his shoulders and his soul to the promotion of Socialism in Nigeria.
Noted for his oratory power, Sango was an atheist, he never believed in God but lived a Godly life devoid of exploitation of man. His law chamber was dedicated to the defence of the poor and the working class. The Chamber in his later years suffered ill fate due to Sango own ill health.
He became a victim of a vicious system he fought through out his lifetime.
Sango was known for his kind-heartedness, his bravery, the power of his logic and his unbroken spirit of Socialist transformation of Nigeria.
He was an ardent follower of Fela Ran som Kuti and never missed any of his Friday Yabis night while it lasted.
Lanre Arogundade, the director of International Press Centre (IPC), broke the news of Aderemi's death on Monday.
The deceased's corpse was taken to TOS funeral home, Lagos State University Teaching Hospital (LASUTH).
Arogundade recall that Aderemi was known as agitator for students and workers welfare at the University of Ife (now Obafemi Awolowo University, Ile-Ife), where he graduated as a lawyer.
He was the founding General Secretary of the Democratic Socialist Movement (DSM); foundation leader of the Socialist Party of Nigeria (SPN); former leader and Chairman of the Lagos State chapter of the National Conscience Party (NCP).
He said Sango was also "an erstwhile students' movement fighter and a strong anti-military and anti-capitalist pro-democracy – a real hero of Nigeria's democracy," wrote Arogundade in his tribute to the deceased.