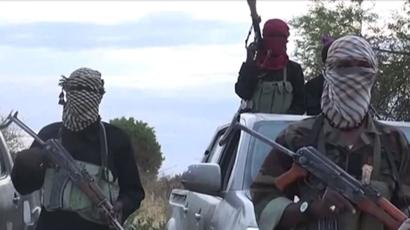 Newsbreak: Yewa: Suspected Fulani armed men kidnap two female students.
By Ayo Sobola
Armed men suspected to be Fulani herdsmen have kidnapped two female students.
The two students attend Olabisi Onabanjo University located in Yewa North of Ogun State.
They were seized at gun point on Sunday.
Sources told Irohinoodua that the armed men whose intonation were of Fulani extraction told relatives of their victims to bring N50m. They were kidnapped in the front of their hostel in Yewa area.
"They were taken away by armed men. We have very strong conviction the kidnappers are Fulani. They have contacted the family and are asking for N50m" Samiu Olowe, a student of the school told our correspondent
The Yewa area links with Burkina Faso an area that has become a safe haven for terrorists linked with Islamic State for West Africa, (ISWAP)
The students are Adeyemo Precious and Oyefule Abiola. Both are students of Departments of Forestry and Wildlife Management and Agricultural Economics respectively.
A source who pleaded anonymity told our correspondent that the abductors have reached out to the families and demanded a sum of N50m for the release of the students.
The source, however, said the abductors linked up with the relatives of the victims through their (students') phones .
The group said that Yewa local government had been battling with herders and farmers' crisis that had reportedly claimed many lives in the last few months.
President of Yewa association Sanni Omobolaji, in a statement issued on Monday said Ayetoro area have become a den of terrorists who had earlier chased away no fewer than 5000 indigenous people from the Yewa area.
The statement reads "We have not been enjoying good policing in Ayetoro since the former DPO died a few months back. Since then, a new DPO has not been deployed to the area, while the DCO who has been acting in the capacity of DPO has not been cooperative with our people.
"We, however, demand an immediate redeployment of the DCO, else, we might take that as an act of sabotage by the police."
The State chairman of the National Association of Nigerian Students, Mr. Adeyemi Samson, said
"Our governor must embark on a fact finding mission now, so as to see things for himself because the security situation in Ogun West is terrible.
"We also beg the commissioner of police to move to Ogun West to restore normalcy in the area."