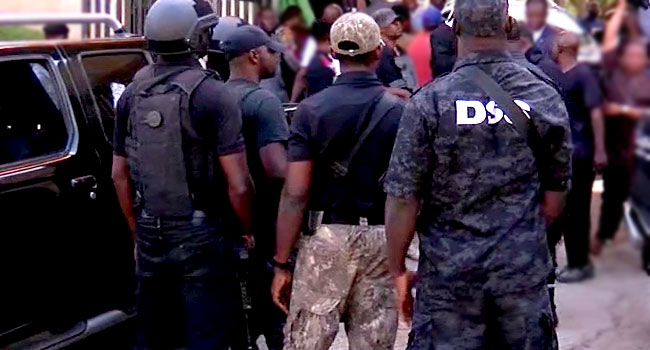 Newsbreak: Terrorists plan to invade Ogun State, attack military barracks, DSS warns
By Bola Olukanmi
The Nigeria Customs Service have been asked to beware of plans by armed insurgents to attack Ogun State anytime from now.
The terrorists seek to advance on military formations in Ogun State, the Department of State Security, (DSS) has said.
The DSS urged the Customs and other security operatives in Ogun State to be on red alert.
The DSS said its covert operations have discovered plans by the terrorists to launch attacks.
The DSS in a letter dated November 25, 2021, asked the Customs Area Controller, Nigeria Customs Service, Ogun Area Command, Abeokuta, to take precautions.
Early this year, insurgents attacked and occupied communities in Yelwa area of Ogun State after driving away thousands of locals from their ancestral homes.
The DSS letter tagged 'Plans by Insurgents To Launch Attacks On Military Bases In Various Border Communities,' was signed by the State Director of Security, Ogun State Command, M.B. Abdullahi.
The DSS said "Available intelligence indicates plans by insurgents and criminal elements to carry out simultaneous attacks on military posts and bases in various border communities across the nation anytime from now."
It added "In view of the foregoing and the likelihood such attacks not limited to the military personnel only, all law enforcement and security agencies with operational bases at border communities are advised to take note of the above threat and emplace countermeasures with emphasis on personal security of operatives to frustrate the planned attack, please."
Locals in the Yelwa area told Irohinooudua that the DSS warning appeared to mirror the security situation in the area. A retired military personnel, Bade Olakunle who spoke to our correspondent in Ogun State said the insurgents were responsible for the wave of kidnapping that has been seen in recent times. "They are in those forests raising funds from kidnapping to buy arms and arms. We live in fear here. We know we can be attacked any time," he said.
Islamic State of West Africa Province, (ISWAP) is very active in Mali and Niger. Observers believe with their operations on River Niger at the moment, their focus on Ogun State should not be a surprise. Some express fear that the prospect of attacks on Ogun State will jeopardise the South West industrial hub.