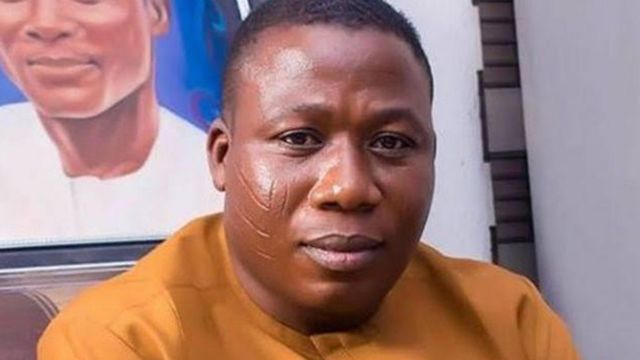 Newsbreak: Sunday Igboho rushed to hospital in Benin
By Kingsley Donkor, Cotonue
Yoruba self determination activist, Chief Sunday Adeyemo (Igboho) has been rushed to hospital in Benin Republic.
He has been kept for close to 50 days by authorities in the West African country
He was suspected to have been hit by depression which doctors said may have affected his blood pressure.
A close source to Igboho told Irohinoodua on Wednesday that Igboho was taken to hospital this week after developing a swollen feet.
"He has become weak healthwise. He has not been eating. He has been rushed to a Government hospital in Cotonue" a Benin official told our correspondent.
In what appears a confirmation of his health status, his lawyer,
Yomi Aliyu said Igboho was taken to a Government hospital in Benin Republic after suffering some health complications.
Aliyu told BBC Yoruba that Igboho has been hospitalised.
He described his condition as critical.
He said he should be taken abroad for better treatment.
He said "Igboho was not diagnosed with this sickness before he was arrested in Cotonou. It was so critical that they had to rush him to the hospital.
"I can't tell if he has been returned to the prison from the hospital but what I know is, he's battling ill health and it seems his kidney and lungs are already being affected.
"Even though I cannot tell which part of his body the sickness has really affected, I know it has to do with his internal organs."
Olowo Akinwunmi an official of Oodua Liberation Movment, (OLM) in Benin Republic told Irohinoodua that the Benin Republic government officials were making strong efforts to ensure he recovered from the sudden ailment
"They are requesting for his medical history. The doctors will be treating him for the first time. They need his medical background which only his family or his doctor in Nigeria can provide."