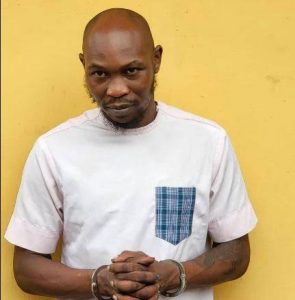 By Joseph Ologeh
Seun Kuti's lawyers have strongly condemned the parade and handcuff of the Afro beat star who handed himself over to the police on Monday.
In a statement made available to Irohinoodua, Mr Olumide Fusika, (SAN) said the parade and handcuff of Seun Kuti was against the law.
He said "Following his encounter with a policeman on the Third Mainland Bridge on Saturday the 13th May, 2023, my client, Mr. Seun Kuti reported himself in the office of the Commissioner of Police at the Police Command, Ikeja, at 8 am today Monday May 15, 2023"
Fusika said he accompanied Seun to the Ikeja police station together with another lawyer, Mr. Femi Akinyemi from Falana and Falana chambers.
He said there was no
interrogation as it was decided Seun would be moved to the Force Criminal Investigation Unit at Panti, Yaba. Before his movement.
He said Mr. Seun Kuti, was handcuffed and his photograph taken in the open by the Lagos PPRO, Mr. Ben Hundeyin who coordinated the parade and apparently shared the photograph of his parade in the media.
"Mr. Kuti is presumed innocent until the contrary is proved by the State. Therefore, the decision of the police to subject him to the media parade violates section 9 of the Lagos State Administration of Criminal Justice Law, which has prohibited any form of parade of criminal suspects in Nigeria in Lagos State. The Police is supposed to enforce the Law, but prefers to disrespect and break it so casually and randomly. A Police institution that has no respect for the law it exists to enforce is not a good example to alleged law breakers."
He said the decision of the police to handcuff Mr. Kuti is equally illegal as it constitutes a violation of Section 5 of the Administration of Criminal Justice Law.
"After handcuffing him, the Police then drove him in a long convoy of heavily armed personnel from Ikeja to Panti Lagos, where he was again displayed for viewing to the men and officers of that police formation, and is currently held.
"We await the next move of the Police on the misdemeanor alleged against Mr. Seun Kuti."