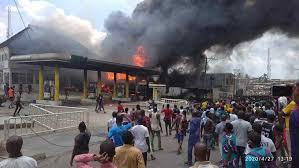 By Samuel Ogunsona
The limitations to social distancing was once again experienced in Lagos today when hundreds of people surged to help put off a huge fire that engulfed a petrol station in Ogba area in Lagos.
This time, it was not politicians but ordinary people who fail to show community leadership at a time of COVID-19 spread
The incidence  occurred this afternoon when a petrol station located in Ogba caught fire.
Sources told Irohonoodua that the fire started when the tanker caught fire engulfing the entire petrol station and a few buildings in the neighbourhood.
Fire fighters were later called in. They were fighting to put off the fire as at press time.
A lawyer who lives in the area told Irohonoodua that the incidence has clearly shown the limitation of social distancing in Nigeria.
"I watched the fire incidence like many residents in the area. I saw a huge crowd at the place. No one put on mask. This clearly shows the dept of ignorance and the level of knowledge of Nigerians. If people are conscious and knowledgeable they should know the next thing to do is no to gather in large numbers when they were not there to offer any solution to the fire incidence"