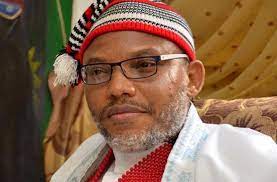 Nnamdi Kanu's illegal, court asks FG to pay 1billion
By Caleb Onuorah
A High Court has declared as illegal the arrest of Nnamdi Kanu who leads the Indigenous Peoples of Biafra, (IPOB)
The High Court also ordered the Federal Government of Nigeria to pay N1billion compensation to Kanu.
The decision is coming at a time IPOB has declared a sit at home which has brought business activities in the South East to a halt.
Justice Benson Anya of the Abia State High Court ruled that the action of the security agents which included the invasion of Kanu's residence in 2017 was unlawful and an infringement on his human rights.
On Wednesday the Judge also said his abduction from Kenya by the secret service and his subsequent abduction and forceful return to Nigeria was "illegal"
The court cited local and international laws.
The Judge ordered the Nigerian Government to pay N1billion being compensation and cost for the violation of his fundamental human of Kanu's rights.
Aloy Ejimakor had approached the Court seeking a declaration that the invasion of his private residence and his abduction from Kenya were illegal.
The Federal Government had earlier challenged the jurisdiction of the Abia State Court to entertain the suit.
Kanu's lawyer Ejimakor had told the court that Kanu did not commit any offense on Nigerian soil and therefore could not be tried in Nigeria.
Meanwhile in Abuja, the Federal Governemmt early this week filed fresh charges of terrorism against the Biafran leader.