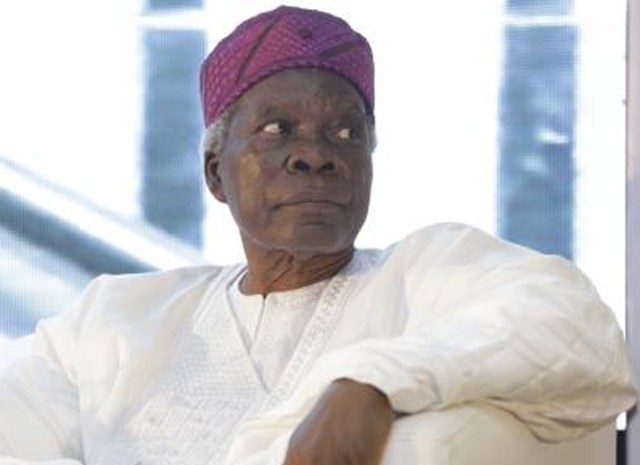 Newsbreak: Nigerian Govt have paid my aides to blackmail me, Prof Akintoye speaks
Opposition within meet today, may sanction Akintoye
By Oluyole Aina
Leader of Ilana Omo Oodua (IOO), Professor Banji Akintoye has accused members of the self determination group of collecting huge sums of funds from the Nigerian Government in order to blackmail him.
Prof Akintoye in a statement made available to Irohi oodua said a rebellious group has emerged withing the rank of the organisation bent on setting the group on a fresh path of crisis.
This morning, one of the funders of Ilana Omo Oodua, Adekunle Adesokan resigned his appointment as the Homeland Secretary for Security. Adesokan is believed to be the backbone of Ilana. Apart from commanding respect within the self determination circle in Yorubaland, he was one of the most significant mobilises behind the huge crowd that the Oodua Peoples Congress, (OPC) at a time commanded. Adesokan also controls the biggest group among the coalition that forms Ilana Oodua. In his resignation letter, Adesokan was diplomatic. He praised Prof Akintoye for his "committment" adding that the 85 year old former Senator tried his best to chart a new cause for Yoruba Nation. Adesokan is the President of Federation for Yoruba Consciouness and Culture, (FYCC).
Adesokan is admired by many and not likely he can be bought by the Nigerian authorities.
Akintoye in his statement today said the Nigerian Government has recruited some "political jobbers cum reactionaries masquerading as Yoruba Nation Agitators to blackmail" him in order to sabotage the Yoruba Nation struggle into a paralysing end.
The renowned Historian described the opposition within his rank a "Political Contractors" that have been paid in Dollars and Naira to wage war against him and some of his trusted aides for refusing to compromise against the teeming Yoruba people.
He said a world press conference being sponsored by the Nigerian Government has been slated for 2pm this Thursday November 18 to blackmail him in order to silence him.
Akintoye argued that all the evil plans of these "locusts" against him and the Yoruba people shall fail, stating that "they are only destroying, and building a bad history for themselves".
Akintoye said "those who towed their pacts in the past are now forgotten, and only remembered as Judas Iscariot by the Yoruba People."
The Secretary for Communications of Ilana Omo Oodua Mr. Maxwell Adeleye said the group tolerated "these reactionaries for too long but they are never satisfied with everything he did to please them, stating that "all they are after in the struggle is self-recognition.
"These reactionaries celebrated the invasion of one of my lieutenants, Sunday Adeyemo Ighoho's House by the Nigerian Government. They never wanted the young man come out of the prison where the Nigerian Government is currently holding him in the Republic of Benin. The offence of Sunday Adeyemo is that he has become the face of the struggle, even more prominent than myself.
"They would grumble that they have been in the struggle for years, and someone who just joined the struggle is now a celebrated hero. I appealed to them to see this as a sacrifice and a battle for our children but they refused to listen.
"The last straw that broke their camel's back was when they refused to release the organization's fund in their possession to be used to add to the funds we wanted to use to pay Ighoho's Lawyers in Republic of Benin.
"We were held into ransom. I had to impose some disciplinary measures in the overall interest of our people which got them angry and ever since, these reactionaries have been threatening to "scatter the struggle".
"They have started blackmailing me and one of my trusted aides for refusing to compromise. When their faceless campaign of calumny failed to materialise, they are now coming out openly to blackmail me in order to please their pay masters in Abuja and Lagos.
He said a press conference is to hold by 2pm today to blackmail me. "They are being sponsored by the Fulani-controlled Nigerian Government. Njenje Media and other New Media platforms have been recruited to livestream it. They have invited some Nigerian Journalists. We now their sponsors."
Observers think the crisis rocking Ilana is fuelled by many factors not limited to lack of internal democracy, lack of ideological focus, the recruitment of anyone without proper screening which has endeared state agents and also the lack of a scientific approach to a complex struggle that needs tact, superior strategy and penchant for transparency and accountability of the leadership itself.
"But I am sure the Yoruba People will fight these locusts. We won't be intimidated. Soon, they will know they are tiny minority. The whole agenda is to demoralise me so that the Fulani-controlled Nigerian Government can jubilate while they smile to the bank but my mind is made up to fight to the end of my life.
"My appeal to the Yoruba people, especially, the Younger Generation, is to come out now and take over the struggle from these locusts. We must never return to the Egypt. This is mainly your battle, not mine. I am challenging the Yoruba people below the age of 50 to take their destinies into your hands. Take over NOW".