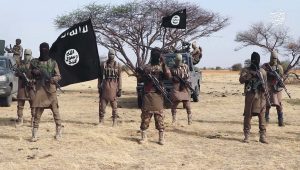 Newsbreak: Hundreds of terrorists invade Lagos-Ibadan expressway
By Sola Abioye
Hundreds of armed terrorists are currently hiding in the forests along Lagos-Ibadan expressway, Irohinoodua was informed on Tuesday.
Sources told our correspondent that the armed groups are already establishing footholds inside the forests to ensure effective nefarious activities in the area.
In the last 14 days, no fewer than 20 people have been kidnapped on the highway, competent sources told Irohinoodua.
Irohinoodua gathered that the terrorists have a well orgainsed network with different tricks employed to track or lure their victims. Security sources told our correspondent that the kidnappers feign different trades like vulganisers, food vendors and also tricked travelers by wearing police and military uniforms.
The source said they are most active at Ogere, Sagamu interchange and Onigari areas all located on the Ibadan-Lagos expressway.
"They operate in the early morning and also in the evenings beginning from 5pm. They carry out their operations all night. They target the rich and the poor. They have sophisticated weapons. They are also on drugs," Sulaiman Adaba a retired soldier who lives at Ogere told our correspondent. He said the local government authorities have been meeting with community leaders towards an effective solution to the problem.
In Ibadan, last week armed men in military uniforms attacked a wedding event where four people were kidnapped.
Folahan Akinsola, one of the victims said "We went to attend a wedding in Ibadan on Saturday and lodged there after the wedding. The following day, as early as 5.30am, we started our journey to Lagos. We moved in a convoy of three vehicles, including two Toyota Corollas and On Toyota Camry. I was in the Toyota Camry ahead of the two other vehicles and we were trying to overtake a truck on the expressway. But as our driver overtook the truck, we zoomed off and had moved quite a distance before realizing that we could not see others coming behind us."
Two staffs of NCRIB, Messers Shola Olawuyi and Adeola Bude were kidnapped on the Lagos-Ibadan highway.
The police authorities said the anti-kidnapping unit has been deployed to the highway to checkmate the menace. However, many travelers are worried that the terrorists may soon have a stronghold in the entire South West within the shortest time.