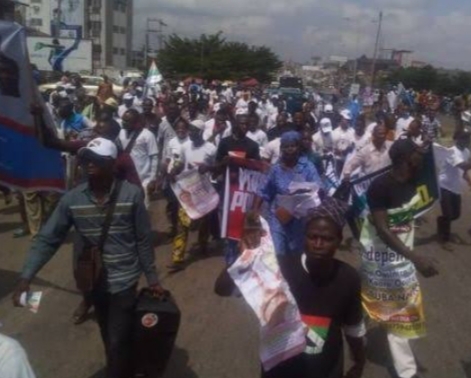 Newsbreak: Free Igboho, Yoruba Nation protest hit Ibadan
By Taiwo Suleiman
Hundreds of protesters today in Ibadan demanded for an end to the persecution of Pan Yoruba activist, Chief Sunday Adeyemo (Igboho)
The protesters also demanded for Yoruba Nation. They carried placards and bannerswith the pictures of the leader of Ilana Omo Oodua, Prof Banji Akintoye and Igboho with inscriptions calling for Yoruba Nation.
The private residence of Igboho was attacked in July 01 by state operatives who later claimed they killed two people. The Department of State Security, (DSS) said arms and ammunition were found in Igboho's house claims disputed by Igboho's allies.
The protesters stormed the palace of the Olu of Ibadan, Oba midafternoon on Wednesday demanding for an end to the siege on Yorubaland by armed men
They later visited the Office of the State Governor, Mr Oluseyi Makinde where they condemned the attack on the private residence of Igboho by armed operatives.
One of the protesters said "Igboho is not a criminal. They are not bandits. They are not terrorists. We want our own freedom from Nigeria"
Another protester who spoke to Irohinoodua said many young people in Yorubaland are tired of Nigeria adding that many people are frustrated by the current siege on Yoruba territories by armed gangs.
He said "Look at what happend in Lagos.We went into Lagos to protest. They shot at us. Where is the hope for democracy?"
An aide to the Oyo State Governor, Mr Sunday Ogunkoya said "We have asked them to put their agitation in writing. I told them. They came in peace. They should maintain peace. We have heard them. They should reduce their demands into writing."