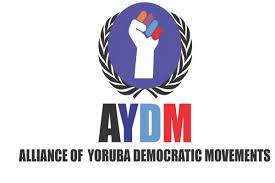 Newsbreak: Buhari must go protest plot to cause ethnic crisis in South West, group alleges
By Samuel Ogunsona
The All Yoruba Democratic Movements, AYDM has warned that some influential people are funding a Buhari Must Go protest planned to take place across the South West states
The AYDM, a coalition of 121 Pan Yoruba, civil society and community based groups in a statement signed by its General Secretary, Popoola Ajayi said the planned rally was an extention of the 2023 intrigues to set the people of the South West against a section of the North.
"The people of the South West are not happy with the social political situation. But instead of embarking on a protest that is destined to be hijacked by ethnic fundamentalists, they would rather use their PVC to assert their freewill on February 25..
AYDM said its members across the South West have informed the leadership that fliers are being distributed while some groups are being connected to be used in the mobilisation
AYDM said the danger is that external forces will hijack the rally and create a situation that will not favour the South West Presidential candidates come February 25.
"It's an attempt to blackmail the South West and portray the region as anti North at a very sensitive period in the build up to the February 25 election" AYDM said.
The group said there are fliers being distributed across Yorubaland calling for protest with specific demands that
"BUHARI MUST GO"
It added "Why not underestimating or ignoring the right to protest, which is legitimate, we urge Yoruba people from Lagos, through Jebba, Kwara, Ogun, Oyo, Warri, Ekiti, Ondo,Osun, Kwara to be careful and cautious."
It said "Buhari will, by law go on May 29. It is only 3 months time.
By election, and the will of the people, another President will be elected February 25, a few days ahead. Any BUHARI MUST GO protest now is a plot by reactionary elements to cause violence, chaos and anarchy that will only help anti democratic forces who are already looking for excuses to create the conditions that will justify their plot. It may not be unconnected with the CBN and the Cabal plot. Millions of naira are being move around to ensure the protest holds."
AYDM said It is a plot against Yorubaland.
"It looks genuine at this moment of harsh economic realities but it is a poison. Do not take it. Any BUHARI MUST GO protest in Yorubaland now is a conscious attempt to instigate the North against the prospect of a South West candidate emerging on February 25."
The group said Yoruba had endured since 2015.
"We don't need to climb the tree for an over riped orange that is about to fall.
Pan Yoruba groups are determined to mobilise the entire Yorubaland against this cuny, sly and counter productive and anti South West plot. They are already moving huge funds around to mobilise the people in the South West."
AYDM said the protest may be hijacked by reactionary forces to instigate Yoruba-Northern conflict to reduce the prospect of Asiwaju emerging as the next President. We must not play into their hands. We are a wise people."