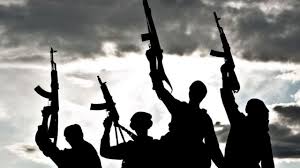 Newsbreak: Armed herdsmen strike again in Ekiti, kidnap mother of twins
Kidnappers wear army uniform, now collect ransom in FG owned NALDA
By Tunde Kayode
In the night of Friday around 10.30 pm, armed men suspected to be Fulani struck again in Ekiti State. As at Saturday, the kidnappers are demanding for N20m ransome, sources told Irohinoodua.
This is the second time armed men would kidnapp people in the area in the past two days.
On Wednesday, they had seized four people between Irele, Ijowa and Oke Ako towns.
This time last Friday night, they took away a middle aged house wife and her child said to be seven years.
Local sources in the two instances said the kidnappers came in military uniforms.
On Friday, the armed men attacked a farm settlement located between Itapaji and Omu Ekiti all located in the Northern axis of Ekiti State.
They took away Zainat Saa'd and her seven year old daughter, Aisha.
They left behind wailing, younger twins who are Aishat siblings.
The incidence took place at Akinlabi camp, a farm produce outlet located between Itapaji and Omuo.
"They were fully armed. They came from the bush. They seized mother mother child leaving behind twins who were also Zainab's children", Taofik Abayomi a community leader in the area told Irohinoodua.
"We are terrified that housewives are being kidnapped. They cam in the night when we were all asleep. They shot into the air while many were asleep. We were jolted. They forced their way into the houses and took away a housewife and her seven year old daughter right from their bed" He said
Less than two years ago, armed men suspected to be Fulani had attacked the same Akinlabi community. They took away Alhaji Mohammed Jamiu, now 81 years. Ransome was paid before he was released by his abductors.
Meanwhile, Irohinoodua has been informed that kidnappers suspected to be of Fulani extraction now collect ransom for people kidnapped in Ondo State at NALDA an agriculture settlement created by the Federal Government located at Irele Ekiti while those kidnapped from Ekiti are made to pay their ransom at Ikoro, a Yoruba community located in Kogi State.
The Ekamefa axis in Ekiti State has become a hotbed of criminal activities of kidnappers. The area is not policed even after decades of requests made by traditional leaders in the affected communities of Itapaji, Irele, Ipao, Oke-Ako, Iyemero and Ijowa communities.