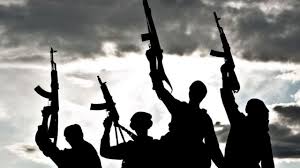 Newsbreak: Armed herdsmen kidnap four in Ekiti Community, ask for 20m ransome
By Bashir Ayeto
Armed men suspected to be of Fulani extraction have kidnapped yet another four comuters in Ekiti State.
The incidence took place on Wednesday evening between Irele, Ijowa and Oke-Ako Ekiti
Eye witnesses told Irohinoodua that one Abayomi, a commercial vehicle driver and native of Ipao Ekiti was waylaid by the armed men.
Sources said the armed herdsmen had earlier blocked the road before a van conveying charcoal ran into them.
Abayomi's vehicle said to be coming after the van also ran into the blockade.
"They took the driver of the van and two others in the second car. We can confirm that four people were kidnapped by the terrorists" Chief Abejide Kehinde the Akogun of Irele Ekiti told Irohinoodua.
He said "We can confirm that at least four people were kidnapped on Wednesday We can also confirm that the kidnappers are of Fulani extraction. We have spoken to them. The intonation and everything shows where they come from. They are demanding for N20m" Chief Kehinde said.
According to him, cases of kidnapping by armed herdsmen has become a recurrent event in the axis which is the border between Kogi and Ekiti State.
The kidnappers make use of the thick forest between Kwara,Kogi and Ekiti States where they appear to have full control.
As at Thursday evening, hunters and members of the Vigilante group have launched a manhunt for the abductors.
Our correspondent heard that the local government Chairman, Prince Micheal Ogungbemi responded to the event by visiting the communities immediately after the incidence. Soldiers and members of Amotekun Corps also visited the communities.
There are no police stations in the ancient communities. The police post were withdrawn in 2002 during an incidence when two herdsmen severed the hand of a police officer. The police authority responded by withdrawing personnel in all the communities making them vulnerable.
"The response from the local authority including the local Government Chairman, soldiers and Amotekun was prompt. We are all working together to ensure the kidnappers are apprehended." Chief Kehinde said.