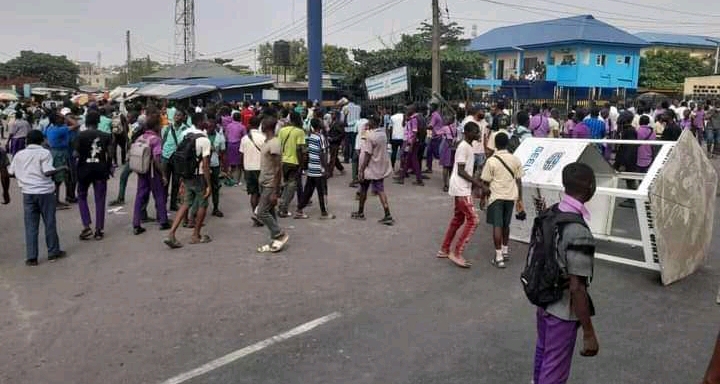 Newbreak: More than 10 school children killed by reckless trailer in Lagos (Watch video)
By Aisha Abass
No fewer than 10 school children have been killed by a trailer driven by an irresponsible driver.
The incidence took place in Ojodu area of Lagos on Tuesday.
Irohinoodua was informed that the driver of the trailer lost control and dammed into the school children.
In Nigeria, trailer drivers are notorious for their reckless and hooligan behaviour. Authorities have done little to stem the savage trend.
Some of them drink into stupor while state regulation of licenses to operators or mental tests of drivers are rare in Nigeria.
The Lagos State Commissioner for Police, Hakeem Odumosu confirmed the incidence.
Odumosu said the police were not sure of the exact number of casualties.
Eye witnesses said the driver was reckless and had been cautioned by bystanders earlier before the incidence.
Irate mob mobilised to attack the driver before police came to his rescue.
"He has been detained. Most likely he will be charged for manslaughter. He was reckless. The innocent children were standing by or on the sidewalk. He rammed to them. He attempted to escaped but was caught. The mob wanted to attack the police station where he was kept. This is a sad and traumatic experience" Kunle Daudu, a landlord in the area told our reporter this afternoon.