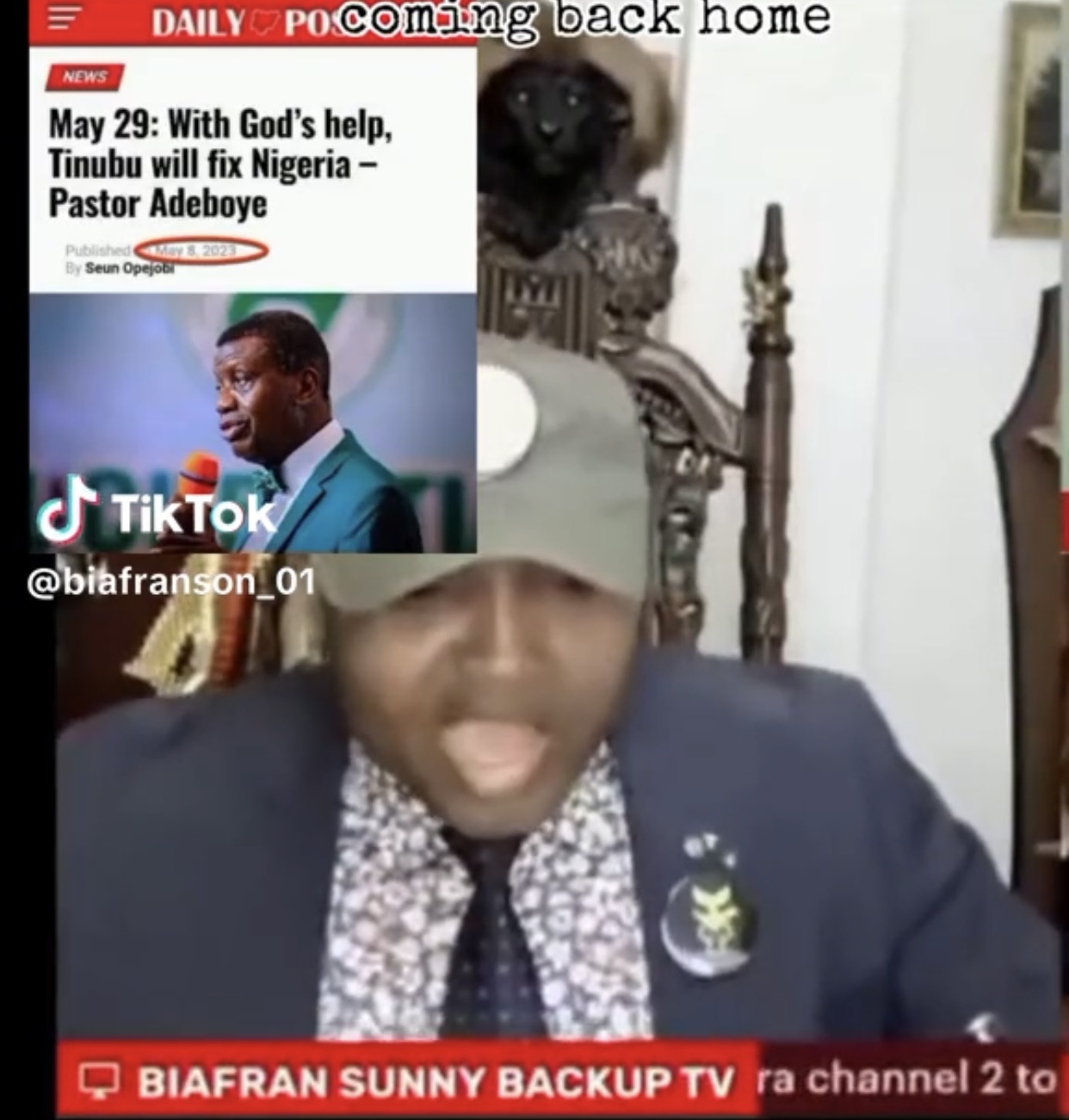 By Samuel Ogunson
Ahead of the May 29 swearing in of the President Elect Bola Ahmed Tinubu, a leader of Indigenous Peoples of Biafra, IPOB, Simon Ekpa, has given strict instructions to Igbo in the North and Southwest of Nigeria to return back to the Southeast (Ibo land).
Ekpa spoke n a viral video monitored by Irohinoodua.
Many see his latest broadcast as another empty threat. Ekpa had made similar pronouncements in the past without effect.
Ekpa who took over as the new IPOB leader after the arrest of Mazi Nnamdi Kanu in 2021 promised to chase away every Nigerian military from the Igboland.
He said, "God has left them and we are the people God speak to these days. God has left them because how can Adeboye (Enoch Adejare Adeboye, Redeem Christian Church of God, RCCG) wake up and say God is going to use Tinubu to, you know, to fix Nigeria". You know, how come? Now let me tell you what is happening today, expose how Tinubu is gathering criminals to run, for the Nigeria he wants to run. Of course, we are not part of them"
He said from the 29th of May, while they are doing their (swearing in) in Abuja, "Biafrans are packing their bags. I am telling you the fact and anybody that stays anywhere in the North except Biafran land. If you are a Biafran, you stay in Lagos, you stay in northern Nigeria, you are on your own. I am telling you the fact. After 29th of this month, believe me, any where you are in Nigeria as a Biafran, believe me, you are on your own" He added.
He said the available resources will be used to protect people in the "Biafra territory" alone and a lot of people will start crying for help.
"Our resources will be only made available to those, to protect those that are in Biafra territory. We are not going to protect you in Lagos, we are not going to protect you in Maiduguri, we are not going to protect you in Kano. I am telling you the fact. Our resources will be made available to protect those in Biafran land"
He spke further, "I will make sure that from the 29th day of this month, we are going to chase away military from Biafra land. I am telling you. Every Nigerian military will be chased away from Biafran land. Every Nigerian Police will be chased away from Biafran land. We are going to chase them from barracks to barracks, from their headquarters to headquarters until no atom of any Nigerian security will be left in biafran territory and for that reason, if you are in Lagos, hear today, biafran will not protect you in Lagos, we will not protect you in kano, we will not protect you in Maiduguri, you are going to be protected in Biafran land. Those who come back, we will guarantee their security in biafran land"
"Let it not be said that you didn't hear it in this announcement because on the 29th of May, by the time you will start crying for help, we will not be there."