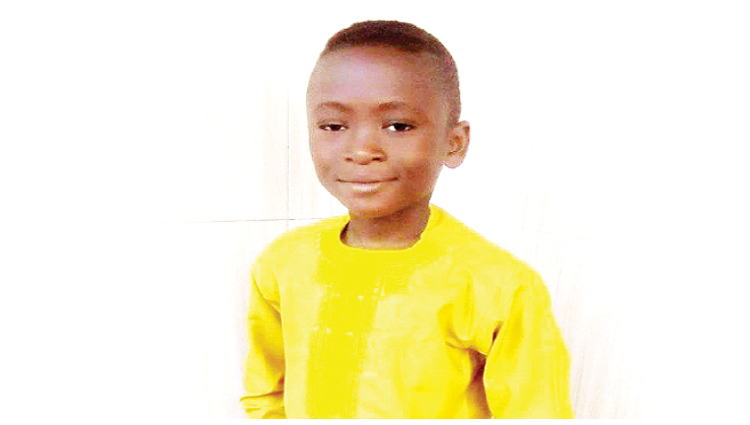 Lagos teacher, Steven, flogs JSS pupil to death
Child vomits after teacher's savage attacks
By Olamitoro Salau
A teacher has flogged a Junior Secondary School pupil until death took him. The incidence took place in Lagos.
Steven, the violent and uncouth teacher
whose surname was yet to be ascertained as at press time, is a staff of Simple Faith Schools located in Agbara, Lagos State where the victim, Emmanuel Amidu was a pupil.
Many Nigerians have continued to raise deep concern about the poor quality of Nigerian teachers who not only abuse and degrade innocent children but also mentally and financially exploit them in a growing string of atrocities committed by people paid by their parents to bring the best out of the pupils. Savage Steven, the teacher. instead, has brought death out of little Emmanuel.
Amidu died at the University Teaching Hospital, Surulere after ceaselessly vomiting following the teacher's inhuman assault.
Mr Akinola Amidu who is his father told The Punch that the 12-year-old was flogged by a teacher when he went to school on Thursday.
Amidu later started vomiting after he was flogged by the grossly unethical and irresponsible teacher.
The father said the school management was more interested in covering up the sad incidence than seeking justice.
He said, "I was at home that Thursday because I was on leave. I recall that Emmanuel asked me for money to buy a new exercise book and I gave him N500 to buy the book and give the remaining change to his sister.
He said further "Later that day, I was called by the management of the school that Emmanuel was vomiting. Meanwhile, this was a boy who left home without any health issue. I had to go to the school and we moved him to a hospital.
"I later learnt that the whole thing started after their class teacher, Mr Steven, beat the whole of his class for not completing their mathematics assignment."
An official of Nigerian Human Rights Community, (NHRC) Mr Taiwo Adeleye told Irohinoodua that cases of violence on pupils by teaches is on the rise in Nigeria. "The fact is that most Nigerian teachers are poorly trained or not trained at all. It's such a stupid and criminal idea to beat any child. This is slavery mentality. In Europe, their pupils are never beaten by teachers yet they perform far better than Nigerian students. In Singapore and Asia you can't beat a pupil yet the students are far better than Nigerian students. The idea of thinking you need to beat a pupil to get the best out of them is obsolete. Sociologists and researches all over the world have proved that when you inflict violence on children, you will have a violent society and this is partly responsible for cultist and terrorism in Nigeria because instead of teaching students love and affection, teachers grow in their hearts the psychology of siege, violence and rage."
Adeleye said the group had opened up a legal aid department to monitor and expose violent teachers who not only diminish the humanity of children but also exploit them.
"Most of them don't teach anything. They are after money. They exploit their parents with all sorts of demands. They even ask for "compensation" the official slang for corruption. What they are doing is that they are destroying the fabric of the society," he said adding that the NHRC will follow up the recent case and ensure that justice is done.