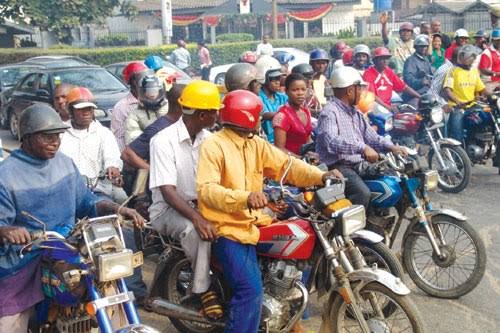 Lagos: Ban on Yoruba Okada riders continues, as Govt recognizes only Fulani Okada owners
Only Okada riders association managed and owned by Fulani is recognized in Lagos, while the Yoruba association of Okada riders is not recognized by the State,  Irohinoodua was informed on Friday. This means that only the Okada association registered by a group of Fulani men can operate in Lagos State.
Our correspondent learnt that the increasing tempo of Okada riders in Lagos State is connected with the trend.
While the State Government recognizes only Nagari Nakowa Motorcycle Owners and Riders Association of Lagos State, (NNAMORAL) is recognized by the State government. The Chairman of Nagari Nakowa is Alhaji Musa Mohammed, a Fulani man, while ANACOWA made of Yoruba Okada riders are not recognized by the State government. ANACOWA is led by Mr Ade Ikuesan.
'We have fought this battle for many years. We are not against Nagari Nakowa, but we do not understand why the Okada riders of Yoruba bloc. This is embarrassing. This is the reason why Okada is very difficult to control in Lagos State. They register all sorts of people, including riders from Niger, Burkina Faso and Mali. It has serious security implications for Nigeria', Ikuesan told our correspondent on Friday.
He said at present, only Nagari Nakowa has the legal right to operate as Okada riders in Lagos adding that by inference, the association is not only in control of the Okada economy but also has under its armpit the security of millions of pedestrians who use Okada as means of transportation.
Documents made available to Irohinoodua indicated that the crisis began during the era of ousted Governor of Lagos State, Akinwunmi Ambode. He was said to have ordered that the deregistration of ANACOWA ostensibly to spite his predecessors, Babatunde Raji Fashola and Asiwaju Ahmed Bola Tinubu who was the Lagos State Governor between 1999 and 2007.
'ANACOWA was registered by the Tinubu government. Under Fashola, ANACOWA was retained. We had a good network with the State government. ANACOWA was led by Chief Adefowope Olorode. Suddenly when he died mysteriously, Alhaji Musa Mohammed, a Fulani man who was voted as his deputy to reflect national character, took over as the ANACOWA Chairman' Alhaji Isiaka Olukunle an official of ANOCOWA told our correspondent. He said instead of running the affairs as a collective, Mohammed approached the Corporate Affairs Commission, (CAC) which registered Nagari Nakowa,  (which means OUR TOWN) as the association of Okada riders in Lagos. Sources said former Lagos Governor, Akinwumi Ambode gave him full support as part of his political campaign against his predecessors.
A letter written by the Lagos State Government and signed by Engr A.O Thomas dated August 2009 had reiterated the recognition of ANACOWA. The letter stated "You will recall that consequent upon the consideration of various divisive factors militating against smooth Transportation Union activities in the state coupled with prevailing policy framework of the government, Lagos State Government accorded recognition to two Unions namely; Road Transport Employers Association (RTEAN) with ANACOWA Motorcycle owners and Riders Association as an affiliate and National Union of Road Transport Workers (NURTW) with Motorcycle operators Association of Lagos State (MOALS) affiliated to it. The two affiliated Associations are to organize and regulate activities of all Okada Riders in the State.
"In view of the above, any other Motorcycle Association aside ANACOWA (affiliated with RTEAN) and MOALS (affiliated with NURTW) in operating illegally and Members of such Association should be advised to affiliate with either of the two recognized Associations."
However, another letter written during the era of Ambode nullified the recognisation. The letter ceded all Okada parks in Lagos State to Nagari Nakoma, owned by the Fulani and Hausa Okada operators in Lagos.
Mr Segun Ajumole, an official of ANACOWA told Irohinoodua that the failure of the Lagos State government to register ANACOWA clearly violates the need for the sovereignty of the people of Lagos including the indigenous population.
Ajomole said ANACOMA's lawyer, Mr Femi Adefolaju had made several protests to the Lagos State Government without respite. He said protests by ANACOMA members against the domination of the Okada trade in Lagos were met with arrests and detention on the orders of the Nagari Nakoma leader. He said "As we speak, eight of our members are in detention for daring to oppose Nagari Nakoma.