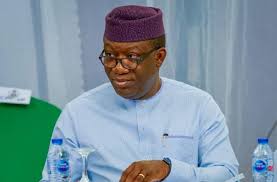 Kayode Fayemi:  The Bad, the Good and the Best
Irohinoodua Editorial September 30, 2022
The Ekiti State Governor, Dr Kayode Fayemi leaves the stage October 2022. Irohinoodua Editorial team after a weeklong visit to Ekiti communities, interacting and interviewing people, reports on his eight-year reign
Ruling Ekiti State is like cracking a hard nut. To bestride little educated people is like a leisure walk, but for a state with the highest literacy level in Nigeria, its people noted for being fiercely democratic and stiff-neck on principles, leadership here is akin to appeasing the gods. After non-concurrent eight years, Dr. Kayode Fayemi will bow to the rule of democracy mid-October.
In the past few days, the former anti-military icon who staked his life has embarked on a thank-you tour, visiting one community after the other to say the final good bye after ruling the largely agrarian state of 2.5million people for eight tough years.
Fayemi came to power riding on a revolutionary horse driven by his firebrand reputation in the campaign for democracy movement of the 1990s. His foray into electoral politics was not without battles following his stolen mandate in the hotly contested 2007 governorship election. After the controversial poll, Fayemi went back into the drawing board coming up with a world-shattering mass campaign that drew local and global attention. After three and half years of rumble, and becoming lean and slightly emaciated, Fayemi seized the baton despite the rerun which saw his mandate re-stolen at gun point.
His 2007 was propelled by his 8-points agenda indicated a meticulous prior plan following his keen needs assessment of his homeland. The agenda which included  Good Governance, Infrastructural Development, Modernizing Agriculture, Education and Human Capital Development Healthcare Services, Industrial Development, Tourism Development and Environmental Sustainability, Gender Equality and Empowerment.
One of Fayemi's first point of call was the Civil Service, a strategic but conservative institution bedeviled by corrupt and ineptitude. His introduction of biometrics was received with cold feet by entrenched interests that saw the civil service as a financial fiefdom that must be milked dry. He confronted a public institution that has been used to doing things in the old, dirty and odd ways. All public servants were compiled to document their bio-data. The scheme exposed for the first time since the 1996 creation of Ekiti State, the monumental fraud in Ekiti State Civil Service and other states including the Ekiti state University. The false payments into ghost and scam accounts ran into millions of naira every year. This however marked the beginning of the cold war between him and the top echelon of the civil service who instigated their constituencies. The biometrics enjoyed the support of the junior servants who knew a over-bloated civil service was in itself self destructive. The scheme also saw many civil servants buckling up knowing a new sheriff was in town. In later years, many conscientious civil servants realized the public good that the biometrics was intended to achieve.
Fayemi was also the first Governor to implement relativity pay in Nigeria. The promotion of civil servants earlier suspended for three years was lifted. One of his most remarkable achievements was the social welfare security scheme which benefited locals of 65years and above some 25,000 people benefited from the scheme between October 2011 and July 2013.
Fayemi is methodical, courageous to make tough decisions, firm, and with a robust compassion to debate. Another decisive achievement was his constructive engagement with his people. Ekiti is the first state in Nigeria where budgets were inclusive of the lowly, peasants, farmers and ordinary folks.
He went from village to towns and cities where each community was mandated to make an input into the budget and urged to list three important projects out of which at least one would be picked. In all, the project implemented in 132 communities, the conception and implementations were people-driven. Fayemi  gave N300million naira to communities in Ekiti to implement projects of their choices. It was the most creative way to deliver governance to the people at the lowest rank of the ladder.
In his first four years, Fayemi increased internally Generated Revenue (IGR) from 109million to N1billion through effective revenue drive and prudent management of resources earning him the nickname 'Baba Ijebu' among the civil servants. 'He saved every penny. He worked like a horse, read all memos, took files home to work overnight and many times had sleepless nights whereas his social life was almost arid. He had no time for leisure', one top civil servant told Irohinoodua.
Fayemi was the first Governor in Nigeria to domesticate the freedom of information act throwing his hat into the ring of transparency and accountability. Between January and August 2013 alone, Ekiti saved 2billion from funds liberated from leakages.
He established volunteer corps to deliver direct labor-oriented service. Though faced with lean funds, one of the smallest in Nigeria, during his first tenure, he spent N8bn to rehabilitate federal roads even though the centre government was reluctant in paying back the bill in whole. Though some federal roads in the state are left fallow by the central government, Fayem's milestones in road construction are evergreen. In his first term, he awarded and executed 31 roads, three bridges and seven box covert between 2010 and 2014 covering a total of 429.06km. He completed 11 roads inherited from previous administration. In April 2013, He awarded new seven roads of 77.7km. Apart from rehabilitating the Kayode Oluyemi Stadium, he constructed a mega pavilion, a civic centre and a new government house for Ekiti heritage. He also did something spectacular: He built an excellent highway between Ekiti and Kogi State covering several kilometers from Irele to Ponyan in Kogi state. It was the first time the road was being constructed in over 500 years of the peoples' history prompting traditional rulers in Kogi State to pay him a visit.
Through the multipurpose credit agency he gave out N253, 452,383 credits to farmers, traders, including non Yoruba residents. He established the Ekiti home agenda with focus on 5,000 homes across the then 16 councils. He designed and executed all the 2009 MDG projects in Oke mesi, Ido-Ile, Ipole-Ilaro, Erijiyan, Ogotun and Efon Alaaye. He constructed 829km of farm roads during his first term. The numbers will double in October when he hands over.
In the realm of Agriculture, the Youth Commercial Agriculture Development (YCAD) which provided jobs for 250 young people was most remarkable. In the area of Education, Fayemi was the first to launch free laptop projects. He gave 41,555 laptops to pupils, 4,160 to teachers, secure equipment to 179 public schools, established remedial colleges in all the 16 councils while a total of 1,533 classrooms were constructed or renovated. In 2012 alone, literacy rate in Ekiti leaped to 72percent from 67percent. After the renovation of schools and retraiing of teachers, enrolment shot up including many children of non Ekiti people displaced by violence in Northern Nigeria.
In healthcare, his footprint is evergreen. By 2014, he had built a cancer centre, Commissioned EKSUTH adult emergency ward while 18 General Hospitals were renovated. He also built three Mother and Child Hospitals. He built the O'odua skill Acquisition Centre, revived Ire red bank industry and the Ikun Dairy which now runs effectively.
In the area of tourism, he astonished Nigerians with the total revival of the Ikogosi warm water hub drawing no fewer than 20,000 visitors in the Christmas of 2013. The hub is completed with Amphitheater. Today, Ekiti continues to lead in Gender equity. Abuse of children, rape, domestic violence now attract several institutional sanctions putting the state on the scale of Global reckoning in capacity to respond swiftly to rights abuses and gender based violence. His wife is believed to be the most productive of all Nigerian first ladies.
In the most thoughtful ways, she leads developments in the state through policy and advocacy, philanthropy, multiple births trust fund, Networking community development and outreach programs, local government market outreach, rural engagements. During his second coming in 2018, Fayemi leaves no one in doubt that is the father of modern Ekiti transformation. By the time he lives in October, the Cargo Airport intended to serve the South West hinterland,  the Aramoko-Ado dual carriage way, now completed up to Iyin Ekiti from Ado, the new civic centre, the College of Agriculture will sustain his legendary landmarks. It is to his credit of his enduring spirit that he survived well orchestrated rumours and sometimes petty if not stupid gossip one of which was that he had a University in Ghana. Checks reveal this to be patently false and malicious.
However, not all is green. Fayemi has a blueprint of a 280km Ekiti State to Abuja railway plan expected to transport quarry stone from Ekiti in  business excess of N2b worth annually. The  non completion of the modern industrial park billed for Ado-Ekiti, the Heliport for Ikogosi visitors, the cable cars already designed to take tourists from Ikogosi through the lurch green valley to the water falls, Conservation Game reserve, the Independent Power Provision (IPP) will not be available even as he lives in October. Many are also worried by the cases of insecurity in Ekiti, though the state still remains one of the best first three most peaceful states in Nigeria. The dark spots of insecurity is not unconnected with the Nigerian garrison structure. Irohinoodua was informed that requests for attack and surveillance drones by Ekiti State government have been lying in the waste bin of the Presidency whereas, no state governor in Nigeria has control over a Divisional Police Office not to talk of ability to deploy the men where and when necessary. Fayemi however stands out as the pioneer of Amotekun Corps having been the first to establish the Peace Corps as far back as 2011 with focal point on security. He was also the brain box behind the Regional Integration framework aimed at uniting the economy of the old Western Region. He, infact hosted the first South West Regional meeting in 2010.
Notwithstanding, Fayemi appears to have substantially healed the bruised hearts of Ekiti State, leaving behind legacies that truthful and honest generations will never despise but will be humble enough to admit.