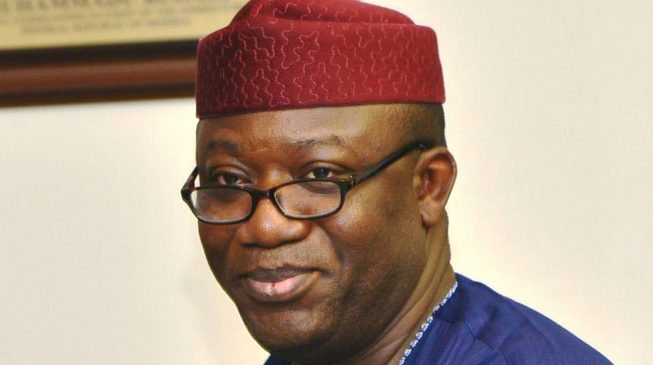 Kayode Fayemi: How will history judge him?
By Suleiman Alabi
There is a persistent question history will ask any leader occupying a strategic position: What will you be reminded for? For a man at the saddle in a dominion known for stiff necks, being remember for good is not a tea party. Ekiti boasts of some 3.5million people. The state has one of the highest literacy rate. Even though essentially a civil servant state, the rate of employment, mortality rate, literacy rate are higher than the national average.
By next year, Dr Kayode Fayemi who led something akin to a revolutionary upheaval when he came in 2010, after protracted street battles and mass uprising culminating in a Court of Appeal Judgment that ushered in the people's desire, will hand over power. He began his sojourn in 2007. He was robbed at gunpoint, but he fought back vociferously. He won.
His first term ended in controversial electoral heist amidst widespread belief that the ruling Peoples Democratic Party, (PDP) manipulated the election to ensure he lost. Now, looking at his account book should mean going back to 2010, but it may be better to concentrate on what distinguished his administration from others in the epoch he sat on the chair as the Governor of Ekiti State.
If I'm to begin on a biographical note,  I first met Fayemi in the early 1990s in the storming wind against military despots. He was not just a member of Campaign for Democracy, (CD) he distinguished himself as a man who wanted to work and soil his hands but his face and voices never seen nor heard. He was not just one of the iconic fighters in Nigeria, he took the campaign abroad where he distinguished himself as a honest, humble and dedicated hand alongside heroic figures like Prof Wole Soyinka and late Pa Anthony Enahoro. It is to the credit of the International Community that his credentials drew global attention drawing him, like a magnet, to the field of global political economy as many countries sought his services.
Let me say that development of any society can focus on structure or superstructure, however, the most momentous  development is not about bridges and infrastructure alone, but the development that places humanity at the centre of all which is the pivot of growth. In Ekiti State, I will like to categorise his striking milestones into sections, the first being Participatory Budget. In the past, budgets were yearly rituals. People and communities hear the huge figures on TV and Radio but they made no input. At the end of each year, they hardly feel the impact and more importantly, where budgets were implemented, the people were never consulted. This, most of the time led to projects that had no bearing with the needs and aspirations of the people. Fayemi introduced an inclusive and participatory budget. Each community is mandated to make input into the budget through constructive villages and towns' engagement with Fayemi.
The people would present their most pressing needs. This happens every year to the extent that at the end of the season, each community would have something to hold on based on the free, prior and informed consent of the people. The process of approving projects in Ekiti, is arguably one of the most transparent in Nigeria. Under Fayemi, Ekiti has an effective and efficient Due Process unlike many states where projects (including Ekiti under some Governors) were awarded in the Governor's bedroom mostly to cronies and quacks. While the roads constructed before Fayemi, especially under the Peoples Democratic Party, (PDP) could not last beyond four years, those built by Fayemi have endured time and space. The road between Irele-Ekiti and Ponyan in Kogi State is just one example
Fayemi radicalized the civil service in the state. He came with biometrics which eliminated ghost workers and instilled fresh ethics in governance. Millions of funds were saved by the state government apart from shielding the civil service from the burden of corruption and inefficacy.
Regional Integration
Fayemi should take the credit for Western Nigeria Regional integration. His providing the intellectual power and the means for Development Agenda for Western Nigeria, (DAWN) is remarkable, having hosted the first regional meeting attended by all South West Governors across political party lines, including the then Ondo State Governor, Olusegun Mimiko. It should be noted that as far back as 2010, noticing the crisis in Libya and the Maghreb region, Fayemi was the first to establish the first home security mechanism, Peace Corps. Some 800 people were employed and trained with the sole aim of intelligence gathering. This concept metamorphosed to Amotekun, some nine years after Peace Corps was established though annulled under Mr Ayo Fayose, to be brought back again by Fayemi in 2018.
Education
In the Education sector, Fayemi  was the first to provide each pupil with a computer in Nigeria. He also eliminated the so called 'Wonder Centres" promoted by a criminal political class where it was legitimate for students to cheat before and during their regional and international examinations. Most commendable is the fact that about 90 percent of schools in Ekiti State were touched, including primary and secondary schools. Cultism met stiff sanctions. He abolished levies in private and public schools, leading to a spiral growth in school enrolment among children from poor homes.
He revived the moribund Technical School in Ado Ekiti bringing back the lost fortunes of artisans who are expected to be the bedrock of industry and small scale enterprises in any society.
Corruption and Good Governance
The pride of the girl child, often sexually abused by teachers and politically exposed persons was reinstalled through the legal instruments that makes Ekiti the most difficult place for anyone to commit sexual crimes. Fayemi fights corruption, quietly, but with uncommon zeal. It begins with the training session often organized for all political appointees focusing on Ethics in Governance. This moral renaissance runs through the administration to the extent that during his first and second tenures, none of his aide has ever been accused of corruption nor even investigated by any of the anti-graft agencies. Political aides and civil servants, unlike what happens in other states, are made to account for the monthly stipends backed with official receipts.
Ekiti is perhaps one of the few states where you cannot point to mansions or huge projects linked to political appointees. Ekiti is the first state in Nigeria to reduce by almost half, the salary and emoluments of all political appointees, including that of the State Governor. All these may have brought him in conflict with some political interests but definitely, the striking feat remains astonishing.
Industry
In the area of industry, Fayemi revived Ikogosi Water, he brought to life Ikun Dairy Farms which would produce 10,000 liters of milk daily, he brought back the Ire Burnt Brick Industry while his agrarian revolution in agriculture has lifted Ekiti into national reckoning. Thousands of people now travel to Ekiti from surrounding states including Lagos to buy cheaper but qualitative rice. The network of roads being constructed are evergreen legacies. The Ado-Ekiti-Iyin dual carriage way, the Agbado-Ode highways apart from several rural roads being put in the best frame by the Fayemi government.
Ethics and Values
Fayemi's social life portrays him as a leader of distinction. He is not the type associated with ethical misconducts either among women or in social gatherings. He keeps his head above the dirty ocean of many political figures we see in Nigeria of today. His family has never been associated with any scandal. His office and domestic relations remain immaculate, showing the ethics you find among modern European leaders. His wife is Erelu Bisi Fayemi and his concubines are books, and books, and books. Such is rare to find in Africa of today. His moral high grounds are extraordinary. This shows in his idiosyncrasy. His manners are partly responsible for the cordial relationship between the Executive and the Legislative in Ekiti State. He is a man of few words, making it difficult for his adversaries to nail him on any point. Fayemi is meticulous, painstaking, orderly and of good composure. He has transformed the space in proportions unimaginable. Little surprise that the International community continues to seek his hands in partnership. The World Bank for instance is investing no less than 12billion in roads, erosion control and infrastructure in Ekiti based on a single human asset: TRUST.
The First lady as a source of Strength
Fayemi's wife, Erelu Bisi provides the needed moral compass for the state. He shows Ekiti the practical meaning of the First Lady. Her immaculate characters, her gait, her brain, her charm and above all, her passion and compassion for the poor and the needy have elevated humanity in Ekiti State in our very eyes. She does not only employ her human capital to assist democratic institutions where necessary, her personal life stimulates the potentials in women and energises the fabric of the entire society on the path of honour. At the inevitable end of Fayemi's tenure as the Governor of Ekiti State, he will not be a perfect man and not without low points, but overall, history will certainly be kind to him and to his decent family.