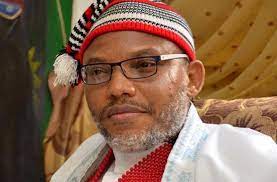 Kanu hires International lawyer, launches global freedom campaign
Leader of Indigenous Peoples of Biafra, (IPOB) has hired Bruce Fein, an International lawyer to help mount global campaign for his freedom. The lawyer is also expected to defend Kanu's per project, the actualisation of Biafra.
In a media TV interview, the new Kanu Attorney said "Based upon today's meeting that Ejiofor had with Mazi Nnamdi Kanu, I am his International Lawyer and his International Spokesperson. I would be pursuing all international diplomatic and political platforms to see that justice is done."
Speaking to Irohinoodua, a member of IPOB in Onitsha, Mark Durueke told our correspondent in a chat that the new lawyer is expected to boost public opinion about Kanu. "The lawyer is expected to meet all strategic institutions across the world to promote the agitation of Kanu and ensure Nigeria frees him."
He said further that he wants to ensure fundamental norms of laws are complied with by Nigeria.
He said "Among other institutions I planned to visit, are the International Working Group on Arbitrary Detention that sits in Geneva. It is an arm of the United Nations Human Rights Council. There is the International Court of Justice, (ICJ), the International Criminal Court of Justice, (ICC), that entertains accusations of crimes against humanity, violating the genocide convention.
According to him, "there is also the International Security Council which you may recall has established special courts in instances where it thought necessary because domestic courts are insufficient to prosecute cases of genocides or violence against humanity."
The lawyer promised to embark on global campaign for ensure the freedom of Kanu.
We will also be approaching the United States Congress which obviously has an interest in Nigeria which is the most populous and the richest potentially in all of Africa. And it will be of the major concern of the Congress of the United States that there will be stable rule of law here; democracy can flourish and religious tolerance is accepted. You know that it was recently recommended that Nigeria be placed on highest tier of concern by International Commission on International Religious Freedom because of the seeming prosecution of those of Christian affiliation which includes a large majority of Biafrans. So, we intend to pursue all of these legitimate platforms in the international community to make it clear that anything that transpires regarding the Nnamdi Kanu case will be fully in the sunshine. It will not be clouded"