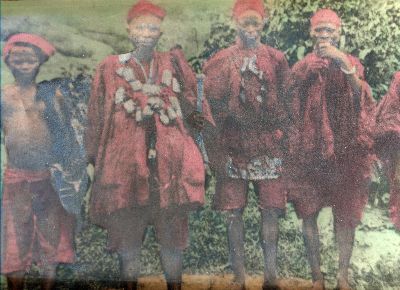 It's 135 years after the Kiriji War that brought an end to Civil War in Yorubaland
Below are some of the leaders of the military expedition on the side of Ekitiparapo including names of those who signed the peace treaty in Lagos noon September 23, 1886
SOME LEADERS OF THE EKITIPARAPO IN THE KIRIJI WAR
OBAS:
Okinbaloye, the Ore of Otun (died at Imesi- Ile (1891)
Olatilayo Oyiyosoye , the Ajero of Ijero
Olayisade Odundun , the Olojudo of Ido
Agunloye, the Owa of Ilesa
WARRIOR CHIEFS:
IJESA:
Ogedemgbe Agbogungboro – Seriki of Ijesa and Commander-in-Chief of the Ekitiparapo forces.
Arimoro second in command to Prince Fabunmi in the second Ekitiparapo army sent against Modakeke.
IGBOMINA:
Adeyale , Prince of Ila (died in the Jalumi War )
Apapalaso , Balogun of Ekan
IMESI – IGBODO:
Fabunmi Prince of Imesi-Igbodo and Balogun of Ekitiparapo
OTUN:
Ogunminu , the Are of Otun
IJERO:
Otunrangun Alaka , The Are of Ijero and leader of Ijero forces (died in battle at imesi-ile)
Akata, the Balogun of Ijero
IDO:
Faboro Prince of Ido( died in battle at Imesi-Ile)
OYE:
Fajembola the Olugbosun of Oye
Akeoro of Ire
Aje of Egosi
Fabgoyo, (after the war) Elejoka of Oye
Irele Ekiti
Palaake
He led the frontiers on the now Kogi/Ekiti area. He was a tough military senior officer who was reputed for studying animals strategy of escaping from danger which he adopted in his training manual
ARA:
Adagiri , the Sajowa of Ara , Leader of Ara forces
Oluborode form Erijiyan
IKOLE:
Aso Ogundana, after the war the Elejoka of Ikole
Adoko from Odo-Aiyedun
Okombo from oke-Aiyedun
EMURE:
Agodi , the Otua of Emure
Fatosin,later Chief Adanikin
AIYEDE AND ISAN
Adewusi Afogbangba of Isan , became famous as leader of Esugbayi's war boys and later led the Aiyede and Isan armies at imesi- Ile
ITAJI
Falore , the Balogun and leader of Itaji forces
OBO:
Aruku, the Balogun of Obo
OMUO:
Ajaka, the Balogun of Omuo
AKURE:
Sawo of Akure
SOME LEADERS OF THE EKITIPARAPO SOCIETY, LAGOS:
Frederick Haastrup (of Ijebu) later (1896) Oba Ajimoko the Owa of Ilesa
Thomas F. Cole of Lagos
Joseph Haastrup
Williams Campbell Esq. of Lagos
Labinjo Esq. from Lagos, Leader of the Rifle Corps at Imesi-Ile until his death in I885
James Thompson Gureje from Abeokuta, Soldier at Imesi-Ile
Philp Jose Meffre of Lagos
Ojamiyunwa Takuro, First head chief of the Aiyesan colony till his death in 1890
Da Costa Brown, Takuro, successor as head chief of Aiyesan
Those who signed the peace treaty
Name and Title Country Mk. Seal Date Signed
1. Adeyemi, The Alafin of Oyo x LS June 25th, 1886.
2. Ajayi, Balogun Ibadan x LS July 1st, 1886
3. Osuntoki, Maye Ibadan x LS July 1st, 1886.
4. Fajabi, Abese Ibadan x LS July 1st, 1886.
5. Fajinmi, Agbakin Ibadan x LS July 1st, 1886.
6. Tahajo, Otun Bale Ibadan x LS June 14th, 1886.
7. Agunloye, Owa Ilesa x LS July 7th, 1886.
8. Okinbaloye, Owore Otun x LS July 3rd, 1886.
9. Oyiyosoye, Ajero Ijero x LS July 3rd, 1886.
10. Odundun, Olojudo Ido x LS July 3rd, 1886.
11. Ogedemgbe, Seriki Ilesa x LS July 2nd, 1886.
12. Derin, Owoni-elect Ife x LS July 18th, 1886.
13. Awotionde, Obalufe Ife x LS July 14th, 1886.
14. Oramuyiwa, Obajiwo Ife x LS July 14th, 1886.
15. Akintola, Obaloran Ife x LS July 16th, 1886.
16. Osundulu, Ajaruwu Ife x LS July 14th, 1886.
17. Jojo, Arode Ife x LS July 14th, 1886.
18. Aworinlo Arisaure Ife x LS July 14th, 1886.
19. Oga Balogun Ife x LS July 14th, 1886.
20. Ogunwole, Ogunsua Modakeke x LS July 14th, 1886.
21. Sowo for Balogun Modakeke x LS July 14th, 1886.
22. Ayanleye for Otun Modakeke x LS July 14th, 1886.
23. Aboki, Awujale Ijebu x LS June 9th, 1886.
24. Onofowokan Balogun Ijebu x LS June 10th, 1886.