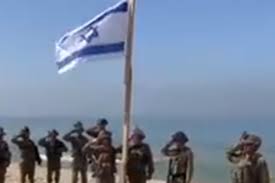 By Samuel Ogunsona
Some Israeli soldiers have been sighted on the Gaza beach.
The soldiers were heavily armed. They hoisted the Israeli Flag and sang the Israeli National Anthem.
The video went viral on Friday indicating a deepening Israeli incursion into Gaza territories and possibly occupying the land. Irohinoodua was informed that the development has further infuriated Palestinians currently resisting Israeli occupation.
The Israeli-Palestine war has gone into weeks of unrelenting attacks on Gaza after Hamas had launched a massive missile strike at Israeli with thousands of civilians and more than 300 Israeli soldiers killed.
As at Friday, the United States has helped brokered phased ceasefire to open up Humanitarian corridor for thousands of Palestinian refugees.