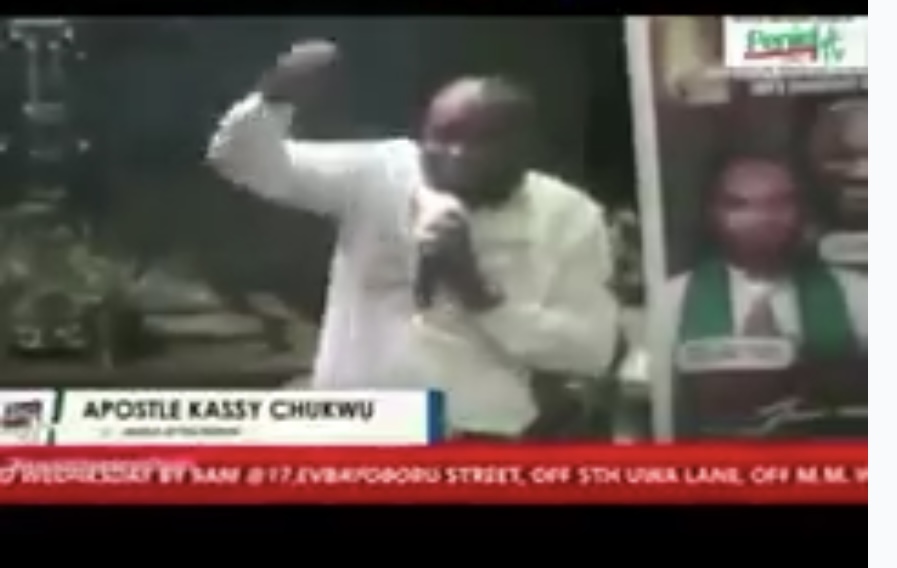 "He should be charged for treason" AYDM
WATCH THE VIDEO
By Samuel Ogunsona
A man who appears to be grossly irresponsible but who parades himself as a Pastor, Kassy Chukwu, of Peniel
International Church
shocked Nigerians when he said the President-Elect, Bola Tinubu, should have been poisoned by his wife.
He spoke to a large congregation of faithful in his Church. He said the wife of the President Elect should have poisoned him in what appears the height of hate and inhumanity of tongues coming from a man who parades himself as a Pastor.
President Elect Asiwaju Bola Ahmed Tinubu won the February 25 Presidential election defeating his rivals, Mr Peter Obi of the Labour Party,LP and Atiku Abubakar of the Peoples Democratic Party, PDP.
The Alliance of Yoruba Democratic Movements, AYDM said Chukwu is not a Christian but "a common criminal who happens to own a Church"
Segun Akinola of the AYDM told Irohinoodua that the said Chukwu ought to be arrested and tries for treason.
"He is nothing but a vagabond. He should be arrested and tries for treason" he said.
In its reaction, the Nigerian Human Rights Community, NHRC said Mr Chukwu sounded like a terrorist, urginf the Security operatives tp arrest and prosecute him.
"Mr Chukwu sounds like a terrorist. He does not appear to have a sound mind. The security operatives should not allow this to go without probing him" Taiwo Adeley an official of Nigerian Human Rights Community, (NIHRCO) told Irohinoodua
Chukwu spoke in his church while addressing his congregation in a video made available to Irohinoodua.
He said Nigerian politicians are evil and he wished their wives could start poisoning their foods for the peace of the Nation.
He said, "If Jagaban's wife poison Jagaban, he won't be doing these things. Can you hear what I am saying? I did not say his wife should poison him, I did not say she should steal poisoned food"
"We are shouting old man can not lead us!! How I wish something should just Minister to her and she just put a slow poison in a food and the man should take it and join this commission, by now, he wouldn't have won the primary"
Chukwu said the Power of this Nation lies in the hand of Women.
"But the woman still prepares good food for the man so that the man will be strong, become the best."
He said the two of them sleep on the same bed and expressed surprise that nothing has ever pushed the woman to suffocate him with a pillow on the bed.
"Can you hear what I am saying? But if this woman touches him, she will say "run, go to France, you will soon die, go take treatment."
He said "Women have the power to help this country. How I wish all these wicked politicians, God should touch their wives. All these evil men, they are looting our money. Just a night, God should minister to them saying " my daughter, my daughter, how much is poison? Put it in your husband's food". They should then put it in their husband's food"
"Then after two months, you will notice the clearance of some people, former governors and the likes. The likely cause of their deaths will be poison. Their wives will be heroes. It is likely that God told me to tell them."