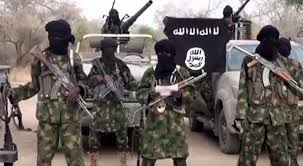 Insurgency As Neocolonialism:
By Professor Ahmad Isah Haruna
First of all, Nigeria is located within the Central African Rift System with other oil producing countries like; Chad Republic, Sudan and Libya.
The Central African Rift System is geologically a gas province, which means, there is more gas than oil deposit in the petroleum fields. I won't go into technical issues.
If you look closely, all these countries have insurgency issues which escalated after the fall of Libya via NATO insurgents. The fall of Libya led to free flow of insurgents from Libya-Sudan-Chad Republic to Nigeria or, Libya- Niger Republic- Nigeria to work for their sponsors. 10% of petroleum-hosting Chad Basin lies in Nigeria (Borno and Yobe States) and that is why they were shortlisted for insurgency.
As geologists, there were no convincing information that prevents Borno State from hosting oil and gas but the Borno oil field is same as Chad Republic oil field (only an imaginary non existent political boundary separated them). Infact some studies in the area showed that even some oil wells in Chad Republic are harnessing oil from Borno fields and so the concept of insurgency was brought in to obscure the truth and prevent Nigeria from harnessing that oil.
Who controls the Libyan oil after Ghaddafi? Who controls the Sudan Oil? Who controls the Chad Republic oil? There is only one answer "FRANCE" and so even the insurgency is positioned by France to ensure free flow of free oil no matter whose ox is gored.
They deceived Nigeria and particularly Borno people with NGOs sponsoring programs like; girl child education, feminism, and also helping the IDP camps (they created) with free money while in the actual sense, they are sustaining the insurgency behind closed doors.
Now the insurgency is dying not because the Nigerian military are winning but because there is a shift in the global economic paradigm from dirty fossil energy (petroleum that is cheap and non sustainable) to clean dry energy (Geothermal and renewable sustainable energy) which led to a change in the global investments profile.
For example now, if you go to Niger Delta, many big foreign oil investors are selling their investments and properties to indigenous oil companies and leaving. With this development peace may return to Niger Delta and insurgency may disappear in Northeastern Nigeria but not the insurgents. The insurgents have now being relocated to Northwestern Nigeria because of the giant regional fractures that host gold deposits.
The same thing that happened in Borno and Yobe States is happening in some areas located on the giant regional gold deposits which touches some parts of; Zamfara, Niger, Sokoto, Kaduna and Kebbi States. The same script is use in this area, the so-called bandits attack towns ,villages and killed people in order to give cover to foreign companies stealing gold in those areas.
Coincidentally, the country bordering Nigerian border States affected (Sokoto, Katsina, Kebbi) is Niger Republic, which also suggested "FRANCE" in action. Our government is incapacitated by debts from same countries benefiting from the insurgency and so our security system is more of "just managing to survive" than fighting the Insurgency, therefore the insurgency with its attendant problems is now a neocolonial strategy not only in Nigeria but Africa at large..