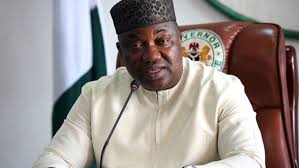 In Enugu, University strikes huge gas deposit in bore hole drill as fire rages
By Alloy Udeze
Fire is raged in a community in Enugu State following the accidental discovery of natural gas deposit.
It is the first time gas deposit has been discovered in Enugu indicating the prospect of large deposit of crude oil presence in Enugu State
The huge gas deposit was discovered after a University asked a company to drill borehole but ended up striking huge gas deposit
Irohinoodua heard that the emission caught fire and has been billowed for three days.
The Nigeria Civil Defence Corps, (NCDC) in Enugu said it was invited to the scene of the incidence only to discover the private company hit a huge gas deposit by accident in Amoji, Nike located in Enugu State
The Public Relations officer, Dave Emmanuel Chukwu said 'For the past three days the fire has been raging. It was discovered that the management of the School (University) engaged the services of a water drilling company to drill a borehole for the school. As they reached about 1000 feet down, they discovered gas emission and the company pulled out their machine and reported to the school management who reported to the State security agencies'
He said several security agents were mobilosed to the scene
He said tons of chemicals have been out into the fire but it refuses to stop He said the Nigerian National Petroleum Company, (NNPC) had visited the site to confirm there were no pipelines indicating they were raw gas deposit.
'It is been suspected that it is coming from natural gas deposit since NNPC confirmed there were no gas line network within the axis"
He said the authorities are working hard to put off the fire adding that the area has been cordoned off to ensure the fire does not escalate
He said ' I want to tell you I'm close to hell because of the heat I'm facing here but no life is lost" he said