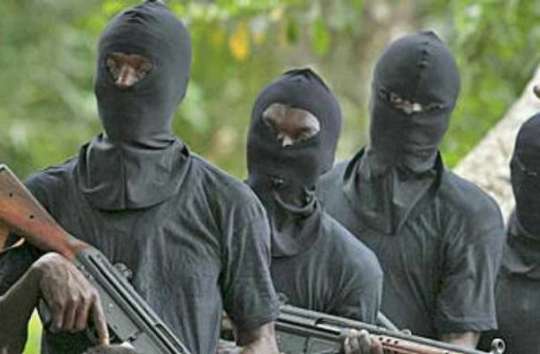 In Ado-Ekiti, armed terrorists kidnap pregnant woman, husband, demand N10m
….shot DPO in the eye in Edo
By Samuel Ogunsona
A pregnant woman, Mrs Falomo and her husband have been kidnapped by armed terrorists who visited Ajebamidele,a suburb of Ado-Ekiti, the Ekiti-State capital, another indication that terrorists now visit private homes to abduct people in a once peaceful South West.
Irohinoodua was informed that the armed terrorists stormed Goshen Community where they kidnapped a pregnant woman. On seeing the agony of her wife from distant, the middle aged husband braved the odds to rescue his wife. He was also abducted. Another clergyman in the area was also arrested by the terrorist who shot sporadically into the air to scare residents.
The terrorists were armed with AK 47, sources said.
On Wednesday, residents trooped to the streets to condemn the gory incidence.
"Ekiti has been quite peaceful until about eight years ago when armed men began to invade our forests. It's a taboo in Yoruba culture to traumatise woman not to talk of abducting a pregnant women. This means they now have the capacity to fo from house to house to abduct Ekiti people" Mr Adekunle Ajakaiye, a resident of the area told Irohinoodua.
The Ekiti State Public Relations Officer, Sunday Abutu confirmed the incidence. He said "Operatives have been deployed to rigorously comb the bush for the rescue of the victims and apprehension of the abductors, " the police said.
He said two people have been arrested in connection with the kidnapping.
The Chairman of the resident association in the community, Mr Samuel Fasua said the protesters marched on the street to draw the attention of the Federal and State authorities to their plight. Fasua said the kidnappers were masked and were heavily armed.
State governments have consistently called on the Federal Government to decentralised power to allow effective policing. While State Governors on paper the Chief Security Officers, in reality they do not have any power over any security operative in their states. Though the South West States created Amotekun, the Federal authority has banned them from carrying the arms required to fight terrorism.
Meanwhile, in Kogi State abductors of students of two female Kogi Polytevhnic students have demanded for N3million. They were kidnapped at a Living Faith Church in Osara Community located in Adavi Local Governlemt Area of Kogi State. In Edo State armed terrorists shot a Divisional Police Officer, Suleiman Muhammed in Igarra area in the eye. Sources said the perpetrators were part of the kidnapping ring that operate in the area.