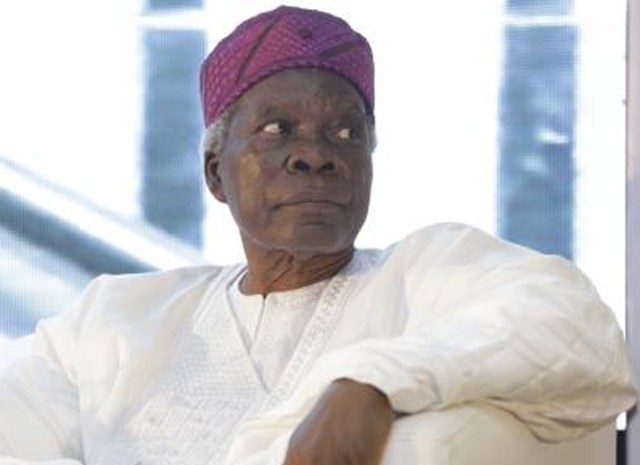 Ilana Omo Oodua expresses confidence in Akintoye leadership
Dismisses opponents as Government agents
By Aisha Abass
Ilana Omo Oodua Worldwide has expressed confidence in the leadership of Prof Banji Akintoye.
In a statement released today and signed by a large number of leaders of committees home and abroad passed a Vote of Confidence on the former late Chief Obafemi Awolowo's aide.
The group said it is currently leading a peaceful agitation for the actualisation of Yoruba Nation away from Nigeria.
Th group unanimously rejected and condemned the actions of the group's Deputy Chairman, Otunba Folasade Olukoya and three others.
It accused them of staging a "failed coup" within on behalf of the Nigerian Government saying she merely entertained her "Pay Masters."
In a statement made available to Irohinoodua and signed by its expanded executive members within and beyond the shores of Yoruba Ilana Omo Oodua said the group was formed in August 2020 mainly by Professor Banji Akintoye and some of his ideological children to promote the peaceful agitation for the actualisation of Yoruba Nation, stating that "those who are currently rocking the boat  came to join the movement after its take off and were accepted in order to have a large support base for the Yoruba Self-Determination struggle".
The group accused the Nigerian Government of attempts to muzzle the agitation for Yoruba Nation.
It said "the ill-fated attempt to dismantle the Akintoye led leadership yesterday Thursday 18th November, 2021 by the agents of the Nigerian Government" is the beginning of another era for the Yoruba redemption agenda.
Said the group "We, the apex leadership of Ilana Omo Oodua (IOO), wish to inform the Yoruba people within and beyond the horizon of Yoruba Land that our leader, Professor Banji Akintoye, is leading us well, thus, we pass a Vote of Confidence his leadership.
Ilana said the Yoruba people have resolved to stand by their leader and the struggleadding "It is no retreat, no surrender."
They said "To God be the glory, we are pleased to say that light has triumphed over darkness in our struggle. The beginning of a new era has started. We are now reinventing, retooling and re-invigorating our movement for the emancipation of the Yoruba people.
"Once again, we the expanded executive members of Ilana Omo Oodua all over the world declare our unflinching support for our leader and father, Professor Banji Akintoye. We want to assure the Yoruba people that we are solidly behind Akintoye at all time."
A group had issued a statement on Thursday challenging the leadership of the 84 year old Professor of History.
The group said it recognizes the importance of Oloye Sunday Adeyemo Igboho and his roles in the Yoruba self determination campaign.
Those who E-Signed the statement were:
1. Professor Wale Adeniran – Chairman, Ilana Omo Oodua Worldwide
2. Prof. Ade Kukoyi – Leader, Ilana Think-Thank Group
3. Alhaji Ali Oyedeji – Chairman, Elders Advisory Council, Ilana Omo Oodua Worldwide
4. Dr. Kayode Akinwande – Deputy General Secretary, Ilana Omo Oodua Worldwide
5. Engr. Muda Ogunsola – Diaspora Secretary, Ilana Omo Oodua Worldwide
6. Dr. Gbenga Adeyeye – Diaspora Coordinator, Ilana Omo Oodua Worldwide
7. Mr. Maxwell Adeleye – Communications Secretary, Ilana Omo Oodua Worldwide
8. Dr. Adejuwon Akinsola – Director of Empowerment Initiatives, Ilana Omo Oodua Worldwide
9. Pastor Ayodele Praise – Ekiti State Coordinator
10. Prince Ade Adefisoye – Lagos State Coordinator
11. Mr. Adekanola Desmond – Osun State Coordinator
12. Omo Oba Kazeem Onikeke – Oyo State Coordinator
13. Comrade Bankole Adeniyi – Ondo State Coordinator
14. Princess Tanimowo Okusaga – Ilana Women Wing
15. Mr. Isaiah Teju – Ex-officio Canada
16. Ms Egbinlade Adebola – Chairman, Canada Chapter
17. Mr. Uthman Ikosiola Salam – Ilana USA
18. Omo Oba Adejoke – Ilana Western USA
19. Mr. Seun Aribilola – Chairman, Ilana Omo Oodua, United States
20. Mr. Olawale Taofiq – Ogun State Coordinator