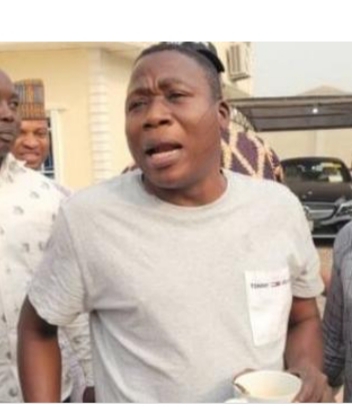 Igboho: Will Benin Republic defend Liberty or  Terrorism?
What the world expects from Benin Republic
The Irohinoodua Editorial-July 23, 2021
Under the 1951 Refugee Convention, asylum seekers are permitted to travel with documents that may have been acquired illegally or even if the documents are false. Refugees in Britain who travelled to that country have done so with false documents and their rights to do so have been upheld by the British courts
The trial in Benin Republic of Mr Sunday Adeyemo, who hails from Igboho town, hence his nickname, has caught the attention of the world. There are are many arguments: He is a criminal that should be repatriated and made to face the Nigerian law; He is an advocate of Yoruba self determination who will never get justice in Nigeria if returned back to his country. He is an enemy of the Nigerian state. But there is a third, often ignored argument: Chief Adeyemo is actually a fighting force against terrorism, the extremist brand of the Islamic State of West Africa Province, (ISWAP). There is a prism from which many Nigerians from Southern, Middle Belt and some parts of the North view Igboho. Farmers, artisans, armed and defenseless people alike whose blood has been shed or whose loved ones have been fiercely attached see Igboho as their savior.
The reign and impunity of Terrorism in Yorubaland
If history counts, Igboho was just an ordinary man on the street associated with some political figures.  His tough fame was earned through local battles he had fought for vested interests. Something shot him into limelight:  Armed terrorists laid siege on local communities across Yoruba territories including Ibarapa, his homestead. They killed. They maimed. They raped. Few instances: Mrs Arakunrin, the daughter of prominent Yoruba leader, Chief Rueben Fasoranti was gruesomely killed. A traditional ruler in Ondo State, Olufon of Ifon   Oba Oba Israel Adeusi, on November 26, 2020 was gunned down. A traditional ruler in Ekiti State the Elewu of Ewu Ekiti in the Ilejemeje Local Government area, Oba Adetutu Ajayi was shot in April this year. Another  Oba, the Obadu of Ilemosho, Oba David Adegboyega,in the same area was kidnapped and kept in the bush for weeks. His rescuers hung him on their back in order to transport him from the forest where he was mentally tortured. The numbers of ordinary men and women traumatized by the terrorists, amidst early warnings by the United States intelligence that ISWAP was planning to attack Yorubaland are just too numerous to be counted.
Indiscriminate targets; women and children, rich and poor were not spared. The Governor of Ondo State, Arakunrin Rotimi Akeredolu was attacked in June 2019. The Governor said "My convoy was targeted but my security people shot into the air to scare them."He managed to escape. They collect ransom, now calculated to be in billions of naira and then use the same funds to buy more arms. State Governors in the South West raised eyebrows, after the filthy hands dug into their stomach could no longer be tolerated, being largely in the same camp with the political party ruling at the centre, but the Federal Government rebuffed them. The quit notice given by Ondo State Governor that the armed terrorists must vacate forcefully occupied forest was dismissed by the Federal Government.
Farmers, artisans echoed their voices from the valleys, no one listened. Indigenous people were chased from their ancestral land. The farmers were driven away and their land occupied. Some of the terrorist dominions were few minutes' drive from fortified military barracks and institutions. They did nothing. The people began to suspect the Federal Government whose leading light, President Mohammadu Buhari is Fulani. The people also became agitated. They noticed no single terrorist actor brought to book even as heavily armed actors occupy forests in North East and North West. Only this week, a fighter plane was shot down by the terrorists. They kill hundreds almost on a weekly basis. The government has done nothing. Some of them were indeed reabsorbed into the Nigerian army. The Federal Government rather takes delight in hunting those resisting the terrorists like Igboho. Why? Traditional rulers who complained were harassed by the Federal Government.
How did Igboho come into the scene?
Igboho came due to ineptitude and failure of the Federal Government. His community was attacked several times by armed terrorists who came thousands of miles away to disturb the peace of his town. In the face of a reluctant government, he led the people to revolt. They did, in a tumultuous manner. The revolt spread like wildfire in dry season. Those who gave sanctuary to terrorism in Ibarapa were uprooted and sent packing by the uproar Igboho led. Automatically, he became a household name. That is his story. Surprisingly, lead suspect, Wakili, a Fulani, said to have harboured terrorists in Ibarapa is a free man in Nigeria today while Igboho, who rose against terrorism is being hunted. The FG, worried by Igboho's leadership, stormed his house without a warrant on July 01 this year at midnight. They turned his home into an abattoir of human blood and flesh. The security operatives admitted killing two people. They picked people from their bedrooms, and took them away. It is unclear to awed Nigerians why the central authority is so obsessed by any attempt to repel the terrorist fueling strong insinuation that the extremists find helping hands within some extremists hibernating within the government.
What the World expect from Benin Republic
The Government and people of Benin Republic must realize that keeping Igboho is jail is as cruel as sending him back to Nigeria. If either of this happens, it  will lead to either of two assumptions: That the Benin Government has been blackmailed into inglorious submission; that Benin has pitched tents with terrorism to her own detriment and to the peril of West African sub-region which ISWAP seems bent to overrun. No matter the offence Igboho was said to have committed on Benin soil should be seen as a fallout of his justified desperation to escape from the pangs of death in his distressed move to save his suffering Yoruba people who are currently at the mercy of terrorism, a yoke that puts the lives of millions of people in Nigeria and in West Africa at the edge of a dangerous cliff. The option left for Benin Republic is to set IGBOHO FREE. Let this great country watch its hands off the blood of thousands of people already killed by terrorists in Nigeria.
Benin Republic Also Not safe from Terrorism
Since February 2018, Benin has seen 60 terrorist attacks near its Burkina Faso border. There are strong feelings that the same group, Islamic State in the Greater Sahara, Ansarul Islam or Jama'a Nusrat ul-Islam wa al-Muslimin operates in Ibarapa where Igboho comes from. In 2018 July, the Council of Ministers in Benin Republic picked an official to oversee national preventive measures against terrorism. The country also established the Commission for Countering Radicalisation, Violent Extremism and Terrorism. Benin also set up Ma Kon-Hin, in the border town of Segbana involving some 1,050 security operatives. Benin hosted a meeting of Burkina Faso, Cote d Ivore, Ghana and Togo on terrorism, all indicating that Benin, where Igboho is being, held feels the heat and its also a potential threat. The terrorists will be glad to see harm befall Igboho. Without any doubt, any attempt to impose any form of sanction on Igboho by Benin Republic will send signals that the country underestimates the wave of terrorism that in the future will threaten her own sovereignty. It will be an irony of history to send to jail or repatriate a man who stands against extremism and violence, the trademark of terrorism, a scourge that is determined to consume the civilization of the people of West Africa. The world is waiting.
Irohinoodua is committed to the promotion of Yoruba heritage, values and civilisation