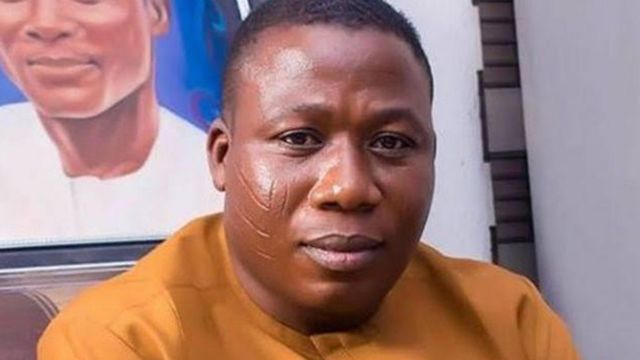 Igboho: Buhari's Govt identifies funders, link activist to 43 accounts
Says activist collected N273m
Group pick holes in Govt Claims
By Samuel Oluwole
The Nigerian Federal Government today said Yoruba self determination activist, Chief Sunday Adeyemo is being funded by a Senator of the Federal Republic among others.
Speaking today in Abuja, the
Attorney General Of The Federation And Minister Of Justice, Abubakar Malami, SAN, said a committee set up by the Federal Government has unravelled the sponsors of Igboho.The FG said Igboho began to receive funds for Yoruba campaign since 2013 but this has raised concerns since Igboho was not identified with any Pan Yoruba group until 2019 when he led campaigns against vicious Fulani armed attacks on Yoruba farming communities.
Malami said Igboho received funds from 43 bank accounts, across linked to nine banks.
But a group, Oodua Liberation Movement, (OLM) said Malami's claims were conscious attempts to call a dog a bad name in order to hang it.
OLM's leader in Ibadan in Ogun State, Mr Bola Akinwumi told Irohinoodua that Igboho by 2013 was not in any Yoruba group and could not have received money from any foreign group as at that time.
"Those funds are his personal business fortunes. They just want to look for excuse to hang him. Even if he collected money, it is legitimate. What about armed groups in the North that collect funds through kidnapping and raid of banks?" Akinwunmi quipped.
Igboho is currently in Benin Republic where he was arrested on his way to Germany. The Nigerian Government made attempts but failed to either abduct or extradict him.
Igboho is one of the leaders of Yoruba self determination who insist on a separate country for some 60million Yoruba people who live in the South West area of Nigeria.
Malami said "The Federal Government has received the report on financers of Adeniyi Sunday Adeyemo a.k.a Sunday Igboho.  The report revealed that Sunday Igboho is a Director and signatory to Adesun International Concept Limited registered on 23rd April, 2010."
He said further that Adesun International Concept Limited also has Oladele Oyetunji and Aderopo Adeyemo as Directors. Sunday Igboho is linked to 43 bank accounts in 9 banks.
He said the major financier was found to be a Federal Law Maker in the National Assembly.
He said "A total sum of ONE HUNDRED AND TWENTY-SEVEN MILLION, ONE AND FORTY-FIVE THOUSAND NAIRA ONLY (N127, 145,000.00) was received by Igboho from his financiers between 22nd October, 2013 and 28th September, 2020 through Adesun International Concept Ltd accounts.
"A total sum of TWO HUNDRED AND SEVENTY-THREE MILLION, ONE HUNDRED AND NINETY-EIGHT THOUSAND, TWO HUNDRED NAIRA ONLY (N273,198,200.00) transaction outflows was recorded from Sunday Igboho's account between 15th March, 2013 and 11 the March, 2021.
Malami said "Investigation reveals that Adesun International Concept Ltd (belonging to Igboho) transferred the sum of twelve million seven hundred and fifty thousand naira (N12, 750,000) to Abbal Bako & Sons.
"It might be recalled that Abbal Bako & Sons and its promoter Abdullahi Umar Usman are suspects in the on-going Joint Terrorist Financing Investigation. Abdullahi Umar Usman is by way of financial transaction connected to SURAJO ABUBAKAR MUHAMMAD (who was sentenced to life imprisonment in UAE on charges of financing terrorism [Boko Haram]).
"This report shows the nexus between separatists' agitation, terrorism financing and disruptions of peace in the country.
He said the report found connections of financial transaction between Adesun International Concept Ltd (belonging to Igboho) and some construction companies and businesses among others."
However, Igboho by 2013 does not appear to be involved in any Yoruba self determination campaign. This raises suspicion that some of the funds may actually have been his personal investment and business fortunes. Igboho only joined the Yoruba campaign in 2019 and became famous due to his insistence on sanctions against armed Fulani that invaded many communities in Yorubaland.