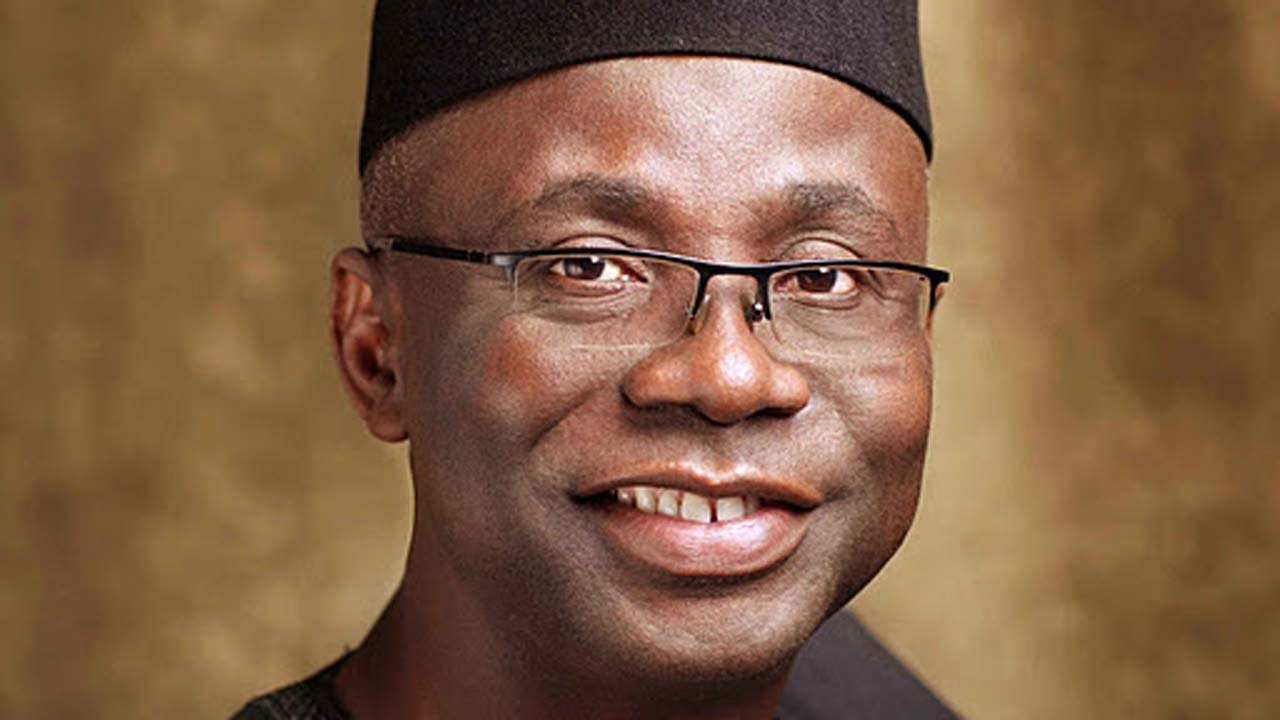 I was a muslim before i became a Christian -Tunde Bakare
Pastor Tunde Bakare, the founder of the Citadel Global Church, who turned 66 years recently, told DAYO OJERINDE his experience while growing up and how he converted to Christianity, among others
How was growing up like for you?
I was born inside my father's house in Abeokuta on November 11, 1954, at 11am. I was born to parents who were Muslims.  My father was a chieftain in the Islamic religion, and so was my mother. My grandfather was the first Chief Imam of Shodeke Mosque in Abeokuta. I grew up in what I will describe as declining wealth and was raised in abject poverty. My father was a wealthy man, but he was an old man by the time I was born; I was the 22nd child and the last.
My father died before my third birthday. I didn't feel it at the beginning because of the intervention of the late Chief Obafemi Awolowo, who gave free education at that time. I enrolled in primary school in 1960 and started school formally in January 1961. When my father died in 1957, I was taken to Sokoto with my mother to go and stay with my uncle. When school was about to start again was when I was returned to Abeokuta.
As a little child, I spoke Hausa but I've forgotten now because there was no one to speak the language with. My mother still spoke Hausa till she died. My uncle was the Seriki Yoruba in the Sokoto caliphate. We had history, but I saw poverty. The period 1961 to 1966 was wonderful in primary school. I still remember my classmates, the top five, Idowu Ogunmokun, Tajudeen Kilani, Ismot Wahabi, Kolawole Obadimu and myself.  We were the top five in class, but 1966 became a demarcation between us. Idowu Ogunmokun went to learn carpentry. I was eventually taken to a carpenter's workshop myself to learn carpentry, but when they used the saw to beat one of the apprentices, I fled. I ran back home and said whatever it would take to study, I would do it. Thank God for my teacher, the late Mr Samuel Ogunbiyi, he was my Primary Six teacher. He told my mother that I must go to school.
By the time I eventually got to secondary school, my classmate, Ismot Wahabi, in 1966 was in form 4, because I had to wait to save money to do all kinds of chores before enrolling in secondary school. I was earning two shillings every day from fetching water. There were eight big pots in the aro (tie and dye) factory where my mum was working in Abeokuta. It would take about eight pails to fill each big pot and my assignment was to fill them every evening, because they would need the water the following day. They paid me three pence for each pot, so I would go to a public tap 64 times every day. I became so professional that I didn't have to touch the pail. I would just put it on my head. On Saturdays, I would go to Olokemeji to fetch firewood for sale.
When did you give your life to Christ?
I was sent packing from the house when I converted to Christianity. I gave my life to Christ on September 24, 1974 at the Yaba Baptist Church, Lagos. I didn't go there to receive Christ; he was not lost. He was the one looking for me and he found me. A friend of mine, who was a Muslim, became a Christian and he was going to be baptised. I was a freelance photographer then and I was invited as a freelance photographer.
I was so angry within me. How can you a Muslim become a Christian. Was it not crazy? I got to Yaba Baptist Church and I just finished praying my Muslim prayer with my little cap behind my back. They said I should remove my cap. I said, 'I'm not a Christian, I'm a Muslim and I came here for photography'. An elderly man approached me and said, 'In Rome, you behave like the Romans'. He said this was not my mosque. 'If you're interested in taking photographs here, you have to remove your cap'.
Meanwhile, on April 10, 1964, I saw the vision of the Lord Jesus Christ; I didn't understand, but the same thing I saw in April 1964 repeated itself while I was in that auditorium trying to take photographs. They were dipping them into the water; it was annoying because I thought someone should take his bath before coming to the house of God. I had never seen the service before and after that, they said we were going to have some communion. My understanding of communion at that time was the meal you give to a person, who is about to die, because there was an elderly Christian in our neighbourhood while growing, they called him 'Baba Onigbago Balogun.' He was about to die then; the catechist came to give him communion.
Revd. Emmanuel Alabi came on the podium with white agbada and said he'd share the communion that night. He preached a short message titled: 'Jesus, the light of the world'. The pillar of light that I saw on April 10, 1964, stood up and before you know it, I was in front with my camera and my hands were shaking and I was screaming, 'I've seen him before!' They thought I was hallucinating and they took me outside, I relayed the vision I had seen and I gave my life to Christ. But I couldn't tell them at home, so I will sneak to church, but we must all come together to celebrate the birth of Mohammed.
They called me on the morning of October 14, 1974, that they were praying together and I was absent, I told them that I couldn't pray that prayer anymore that I had given my life to Christ. And my eldest brother gave me five minutes to pack out of his house. I had a choice, if I'm a Muslim, I'll be allowed to stay; if I say I'm a Christian, then I'll have to go. I didn't have many belongings; I had two pairs of trousers, T-shirts and a few books, so I left. I passed the night at Alagomeji bus stop, nowhere to go.
Read these details in my book; it will be out when I'm 70 years. That night, I could have been crushed by the petrol tanker that came to deliver fuel, because it was late in the night. I just managed to sleep somewhere there but God helped me the following day; the Secretary of the church got the report of all that happened to me. So, I was able to get a room with the help of the church. The persecution was so heavy that you'd think the world had come to an end. I went through it and those who persecuted me now, by God's grace, eat on my table and their children are Christians. Many of them are Christians; my mother later became a Christian also.
You were the running mate to the President, Major General Muhammadu Buhari (retd.) in 2011, how did your path cross?
Known to God for eternity are all his works; He does everything after the counsel of His own will. President Muhammadu Buhari's destiny and my destiny kissed in 1984. We never met each other; I had just been fired at work two months to my wedding. I was fired on September 24, 1984. I got married on November 24, 1984. And I was so gripped, that two months to my wedding I lost my job. My boss was a member of an occult group and I went to confront him and that was how he fired me. But on October 13, 1984, I drove a brand new Santana GL to the same place; God intervened and turned my situation around.
I went to church and my pastor then, Pastor E. A. Adeboye, advised me to start my private law practice, but I told him it wasn't possible. Then, the Private Practice Decree stipulated that lawyers must undergo five years apprenticeship before starting a private practice and I had not fulfilled that. He said go and pray; I went to pray and God said I should start on October 1, 1984. I said, 'God and Adeboye have missed it because they both don't know the law of the land'. But I've learnt to obey God, so my best man when I married, Femi Fatunde, joined to pray with me. We prayed overnight from September 30 to October 1. As we woke up, we were watching television and heard the news that Muhammadu Buhari had abolished the Private Practice Decree. I prayed for him that day like I had met him before; eventually, he was overthrown and that was it; our paths never crossed again.
When I came into the ministry, one of those who had attended my Sunday School in the Baptist Church where I gave my life to Christ is Tokunbo Afikuyomi. He was contesting for the governorship position on the platform of the ANPP in 2007 and he brought President Buhari to my office. I didn't tell him the story of 1984; he said I should pray; he was meeting pastors so that they would not put the toga of Islamic fundamentalist on his head. I looked at him and asked if I could ask him to come over and I took him to my inner office and said to him, 'As you sat there, the spirit of God impressed it upon my heart that you will not win this election but if you keep on trying, you will win one day'. And he left. Our paths didn't cross anymore; he is alive.
One thing led to another; God showed me some revelations that led to the 'Save Nigerian Group'. The day that I led the protest in Abuja with Prof. Wole Soyinka and Femi Falana, President Buhari was coming from the other end in an SUV alongside Balarabe Musa, Atiku Abubakar and Gusau, they were heading for the Senate. He saw me marching and asked if that was Pastor Bakare. He later said that was the day it ministered to him that I'd be his running mate. I knew nothing; I was in Spain when the phone call came.
He lost an election in 2003, 2007 and was about to lose in 2011 also because there was no balance of terror. I'm not talking about burning people. The way Nigeria is structured, you can't win a presidential election except there's a handshake between the North and the South; it won't happen; that is the way it is structured. So, they called me while I was in Spain to get them a vice presidential candidate; I was so excited, I gave them Jimi Agbaje, but they dropped him. They called me again, I suggested Oby Ezekwesili, but she refused. So, I sent for Niyi Adebayo, I told him I would like him to take the opportunity.
Before this time, Asiwaju Bola Tinubu had sent Lai Mohammed to me that I should persuade Buhari to run under the platform of the AC before it became the ACN. I went to meet Buhari who would be his running mate, he gave me an answer, he said the greatest grassroots mobiliser in the South-West. I told him I couldn't broker a Muslim-Muslim ticket, so we left that day.
What was your reaction when Buhari told you he wanted you to run with him in the 2011 presidential election?
On January 15, 2011, at noon, my phone rang, it was President Buhari. He told me he had prayed in his way and he wanted me to pray also and that he wanted me to be his running mate. I said, 'Thanks, but no thanks', because I'd earlier made up my mind that I would never seek an elective office or join a political party. He told me to pray about it and call him back in seven hours, but I didn't call him. I told Pastor Adeboye and he advised me to be his running mate, but I said no. I consulted here and there, and then eventually agreed. The rest will be in my memoir. I didn't fill the form until the last day, then I became his running mate. The rest is history. But we didn't win the election. He felt they cheated us and got to the Supreme Court. That was it.
Do you still have the ambition of becoming the President of Nigeria?
There is something called destiny. I don't want to hide under one finger and make an ambition look like a vision. It is not a matter of life and death. You can write it down, as the Lord lives and as I'm given the opportunity, the day will come like Joe Biden, that I will be President of Nigeria.