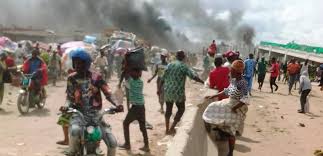 Hundreds of Okada Riders attack set houses on fire in Abuja, protest death of member
By Saliu Tajudeen
At least three houses were on Sunday set ablaze in a private Estate in the Nigerian capital, Abuja on Sunday.
Many houses would have been wrecked of not for the timely intervention of the police and soldiers, sources told Irohinoodua
Women and children wailed as the Okada Riders numbering about 100 mobbed a vast estate where they set cars and houses ablaze.
Tenants and landlords who had nothing to do with the incidence relating to the death of an Okada rider were attacked and their property and homes set on fire
Billowing smoke was seen on Sunday by our correspondent in Abuja where the ugly incidence took place on Sunday at Lokogoma.
The motorcyclists attacked Global Estate located in Lokogoma. They set some building ablaze before security operatives intervened.
They claimed two of their colleagues were hit by a car owner. The security guards were overpowered while armed defenders of the Estate flee as hundreds of the Okada Riders light up the Estate with fire.
A resident, Nnamdi Orji said he watched as the mammoth crowd of Okada Riders invaded the Estate attacking everyone on sight including children.
"They were vicious and unruly. They came with petrol and set houses ablaze'
One source said Okada Riders chased a car owner who took refuge in the Estate after the car owner was said to have mistakenly hit two Okada Riders
The Estate Manager, Mr. Adebisi Adelowo told The PUNCH:
"Over 100 Hausa bike riders attacked our estate some hours ago. They tried to burn down the estate by putting fire on two buildings.
"They pulled down our gate and started stoning people's houses. We couldn't stop them until the police and the army intervened.
"We later learned that they attacked our estate because two of their colleagues were knocked to death by a motorist who ran to our estate for safety as he was been chased with big stones and other dangerous weapons.
"The motorist who is not even a resident of our estate ran into the estate because he noticed a police post in front of the estate."