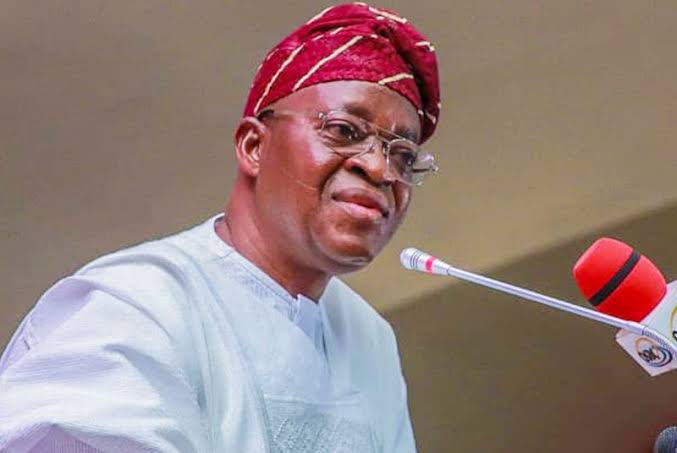 Human rights groups ask Oyetola to probe Oriade LG Chair
By Akinola Ojo
The Governor of Osun State, Gboyega Oyetola has been asked to investigate the activities of the Chairman, Oriade Local Government Mr Bunmi Obeisun.
In a statement on Monday, the Nigerian Human Rights Community, (NHRC) said it has received various reports concerning Mr Obeisun relating to acts of violence and hooliganism.
'From various complaints received by the NHRC, Mr Obeisun does not appear fit to hold any sensitive political platform that is expected to promote justice, human right  and free speech which is the hallmark of democracy' the NHRC community said in a statement signed by its Senior Programme Office, Ayodele Salau.
The NHRC, established in 2003 is a coalition of several human rights and community based groups spread across Nigeria.
The group said on Wednesday, February 02, 2022, Mr Obeisun physically assaulted  Mr Dele Famose, a journalist and security expert at Ijebu-Jesa.
The group said Mr Obeisun portrayed himself as rash, irresponsible, aggressive and unfit to hold any position of responsibility adding that he appears to see political authority as an avenue to exploit and degrade the people he is expected to protect. NHRC community said his action suggests that many locals may have suffered the same acts of his bully in silence.
NHRC  said Obeisun admitted to his acts of violence and hooliganism when he  said he was on a state assignment to monitor the distribution of Oyetola's monthly free food for the market women.
'His assignment does not in any way warrant visiting violence on an innocent citizen not to talk of unleaching his array of thugs.'
NHRC said Mr Famose is in his early sixties adding that Mr Obeisun should have shown some respect in accordance with the agelong tradition of the Yoruba but instead chose to resort to brigandage, assault and violence in the public space boasting that he has the authority of the state to commit acts of hooliganism without restrain. NHRC said the incidence took place near the First Bank Ijebu-Jesa where  Mr Bamidele Famose was at the moment. 'Mr Obeisun did not only assault Mr Famose, he wounded him. He also ordered his armed thugs to attack him.'
The group said it is unfortunate that an unseeded local politician could resort to physical violence against Mr Famose who is a June 12 election deannulment icon who risked his life and invested his resources during the June 12 struggle when Mr Obeisun was probably in secondary school.