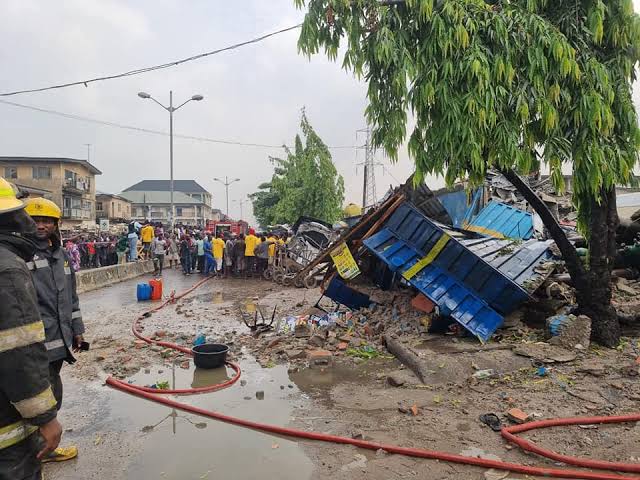 How phone call triggered gas explosion in Lagos, leaving five dead
By Aisha Abass
A client who received a phone call while filling a gas was responsible for the explosion that rocked Lagos two days ago.
Reports said a client was filling his 12.5kg gas cylinder during which his phone rang. He picked the call, then the big bang: The cylinder and other gas laden facilities exploded. At least four people died while many property were destroyed.
On Tuesday the gas explosion rocked Ojekunle Street, off Ladipo Street, Mushin in Lagos State. No fewer than 14 vehicles were also destroyed by the explosion.
The Lagos State Commissioner of Police, Hakeem Odumosu warned residents to stop making or receiving calls while operating a gas system.
He said "This is a disaster that is completely avoidable; this is human negligence because what we heard was that the thing blew up when someone was trying to refill a gas cylinder while making a call."
Irohinoodua was informed that the client whose received a call, the man selling the gas and another woman who sold puff puff around the scene were mangled by the explosion.
Another source said the area had been sealed earlier by the Lagos State Government following suspicion that the facility was no conducive for the sale of gas. The owner was said to have ignored warnings from the Lagos State Government.
One mechanic in the area said he would have been killed by the explosion if not thay he left the scene earlier due to an accident that prompted him to take the victim to a nearby hospital.
"I would have been dead by now if not that I took the victim of a motorcycle accident to the hospital" he said.
"The scene was said to have been sealed because the side of the street was dedicated as a mechanical village on which no other user was allowed. But after some time, the seal and lock were removed before the incident occurred."
The Director-General of the Lagos State Emergency Management Agency, Oluwafemi Oke-Osanyintolu
said "After a rigorous and aggressive response, we put out the fire after one hour and we were able to bring out 10 injured persons, who were treated on the spot and discharged. But it is pathetic that we recovered five bodies, four males and one female. Recovery is ongoing and we are going to get to the root of the matter."