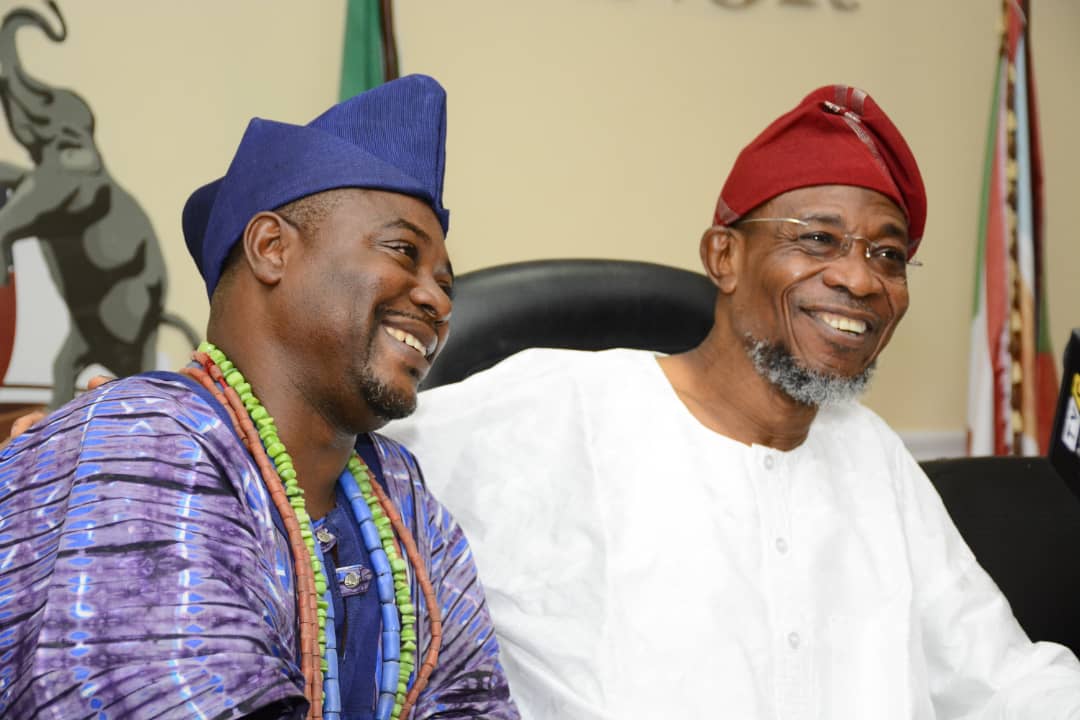 How I discovered 5th Century Yoruba Alphabet, Benin Republic Chief speaks on his encounter with Yoruba hidden treasure
Says Yoruba Alphabet was created by Oduduwa's father thousands of years ago but discovered recently in Benin Republic.
His name  Chief Taye Oguntosin, the  Tolulase of Ajase-Ile Kingdom in Porto-Novo,Benin Republic. His great grandfather was the 3rd Areonakakanfo of Yoruba land.
Oyabiyi which myth said became Irunmole at Igbo-Alale in Farasinmi Village, located between Nigeria and Benin Republic. He speaks with Irohinoodua's News Editor, Akin  Kasali on his discovery of the 16th century Yoruba alphabet and efforts being made to reintroduce the almost extinct treasure
Irohinoodua: When did you begin your research on Yoruba language?
Chief Tolulase: I received a massage from my father that I should start what Olodumare sent me to do on earth. I went to him the same day, he said he would direct me in spirit, then he died two hours after. He gave me the necessary tools.  That was how I started searching, the following for the clues he gave to me about Yoruba lost history. Two weeks later in my dream, he said I should go across Republic of Benin and meet the Oba for Unity. That was the beginning of my research into the hidden history of Yoruba knowledge. It was later in 2016 I discovered the Yoruba dialect that was used by our forefathers, written down by them, as a form of communication.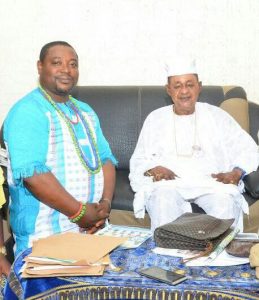 Irohinoodua: What was the importance of the message on Yoruba Oba unity?
Chief Tolulase: It was necessary, as he informed me, for Yoruba to rediscover herself and her hidden glory spread across continents. It was necessary to first unite the Yoruba in the spirit before the actuality in matter. After I succeeded in Benin Republic, according to laid down instructions, I came to Nigeria for the unity of Yoruba Obas. I started with the late Ambassador Olusegun Olusola in 2006 to 2008. That was when we ensured 148 Ogun State Obas met with 23 of their counterparts in  Benin Republic Yoruba Obas.
The former Ogun State Governor, Otunba Gbenga Daniel sponsored the meeting held at Okemosan (Ogun State Government) Abeokuta. After the launching of the Council held at Oba Alaketu Palace in 2010, I moved according to  Ifa's directive to unite the seven Okanbi's children. I succeeded in doing this. The meeting held at the Oba Orangun-Ila's Palace with the support of former Osun State Governor, Ogbeni Rauf Adesoji Aregbesola. That was in 2012.
Irohinoodua: What is the source of your inspiration?
Chief Tolulase: What inspired me is the history my parents used to tell me about the greatness of Yoruba Nation. They were rich in knowledge and history. It was also about my life before I was born and after, according to my parents that different miracles used to happen during those times, till when I was 11 years old.
Irohinoodua: Since you started research on Yoruba ancient script. What are your findings?
Chief Tolulase: I cannot say I was really searching. I was only doing what God sent me to do. The script has been there but neglected by colonial history. We need to rediscover out history beyond what colonial people want us to believe about ourselves. I was also inspired by the knowledge of Yoruba Obas in Benin Republic. I was inspired when I met Babalawo Olokun Idowu Awopetu at Ilesa, Osun State.  He consulted Ifa for me in 2009 after I have succeeded in ensuring the unity of Benin Republic Yoruba Oba's, planning for the launching to be in 2010 which held.  After the launching, Ifa directed me to our hidden forefathers' shrine at Igbo-Alale in Farasinmi Village. That was when I discovered Oduduwa Alphabet. I started promoting it till today. We have to turn the community into a world tourism heritage. We should value our past. We should know we have existed for thousands of years before the Europeans came and we had lived thousands of years with a bundle of history that are almost totally lost.
Irohinoodua: From your research, what century did the writing of Yoruba script (Alphabet) begin?
Chief Tolulase: This is a challenge for researchers, a challenge for further studies by Universities especially those in Yorubaland. History is wealth, it can bring millions of wealth to Yorubaland if well looked into. I don't really know the beginning of the Alphabet, but according to Oba Alajase Onikoyi Abesan the fifth, Alajase-Ile in Porto-Novo, he told me that the Alphabet was created by Oduduwa's father. We are talking to over a thousand years ago. The interesting thing is its discovery.
Alphabets were used in the ancient times for communication, for art and even for intelligence relations in military warfare. The Yoruba are great warriors. He said Oduduwa's father knew the Alphabet would be useful to him in the  future, then after Oduduwa took over the Kingdom, earlier, his father had to fight a war against some people, a place called Saudi Arabia today, going for the war, Oduduwa could not make it, as you know that if a King go out for war like that, and he did not succeed, the king cannot go back to the throne, that was why he proceeded to look for his father's home. He needed  a means of communication and he needed to teach his numerous followers. It was evolved as a secret means of communication among themselves and they were written down, developed and preserved. The alphabet was used by generations to generations before it was lost and now rediscovered. Even when they split into two, that some went back to Saudi Arabia through Sudan, they preserved the Alphabets among themselves.
Irohinoodua: Did you think these scripts were effective in the ancient times?
Chief Tolulase: Yes. Our problem is having conscious leaders with a deep sense of history. We have to conduct more research, travel along the same route like Oduduwa to rediscover ourselves up to Egpyt and then to Ife-Oodaye and Ife Ooyelaagbo.
Irohinoodua: What role does the Oloorogbo ancient school at Ile Ife play in this?
Chief Tolulase: As I told you earlier that the Alphabet is a secret power, in my findings in lost History, one of them transform himself to a giant bird.,  If you believe the history of Jews and Arabs why wont you believe this? The one that transformed himself to a bird was also involved in taking messages from Ife to Egypt. Remember when Oduduwa was dim in age and in his eyes, before Owabokun came back home with seawater for the ritual to unblind his father (Oduduwa), there was no eye operation but the sea water was used by Owa Obokun. Remember the Oluorogbo in Ile Ife also has some of the ancient scripts but nothing has been done to conduct carbon dating and embark on more research. I was told by Oba Akire at Ile-Ife that the Alphabets are also at Oluorogbo locate in Ile Ife. So we have a lot on our hands to do. We don't have to wait for foreigners to do it for us.
Irohinoodua: How many people have you met about the development of the script in Nigeria? What is their response?
Chief Tolulase: I have met all Ojulowo Oduduwa Children at their kingdoms: Orangun of Ila, Owa-Ajero of Ijero, Alara of Aramoko, Owaobokun of Ijesa, Onikoyi of Ikoyi-Ile, Olugbon of Orile-Igbon, Aresa of Iresa-Adu and Iresa-Pa, I only sent a message to Osemawe of Ondo.
I want to meet the new Olu of Warri. He is young and  intelligent. I travelled round Yoruba land, the children of the first Son of Oduduwa (OKANBI) also received me at their Kingdoms: Olowu of Abeokuta, Alaketu of Ketu Benin Republic, Oba of Benin Citi at Edo State did not receive me then 2012, but the Secretary and some Chiefs attended to me; Onipopo of Grand-Popo Benin Republic, Onisabe of Sabe Benin Republic, Oranmiyan of Alaafin Oyo and Olofin Iseri (Ogunfunminire) among other powerful Obas in Yoruba land accept my project. There is one Oba at Lagos State that always assist me financially Oba Ajiran of Eti-Osa, the first Oba that financed Oduduwa Alphabet Project is Oba Fadesewa of Simawa in Ogun State. He assisted me with fifty thousand naira in the same year of 2016 that I discovered the Alphabet.
A big meeting was held at Osun State Governor's office in 2017, Ogbeni Rauf Adesoji Aregbesola received some of the above mentioned Oba's to approve the Oduduwa Alphabet to be used in Osun State as a pilot project. The Commissioner involved said he was not interested. Its sad. One day, I hope Europeans will not come and do this research and we will be going to London or American Museum to look at the Alphabets. History is wealth. We need to be proud of our past.
Irohinoodua: How will you describe the relationship between Yoruba in Benin and Nigeria?
Chief Tolulase: Yorubas in Benin Republic and Nigeria are the same family, the same Culture and language, but definite  not in the same country. If we have good leaders on both sides, this is a huge advantaged that should be exploited. The Obas are united but there is not link between the Yoruba political leaders in Benin, Togo, Ghana and Nigeria. This is not good.
Irohinoodua: What can Yoruba in both countries do to improve the relationship?
Chief Tolulase: We can promote our relationship by inviting each other to Cultural ceremonies.  There are indigenous Yoruba people in Ghana, Togo, Gambia, Benin Republic and in Latin America. We need cultural, political and economic unity. Ogbeni Rauf Aregbesola did well on this during his time as the Governor of Osun State. Other Yoruba States in Nigeria can also do as the Osun State Government under Aregbesola did. They need to have MOU Agreement signed together with Porto-Novo Government, Benin Republic Yoruba Government and Nigeria on economic cooperation. Yoruba State Governments should be doing that. Unfortunately, the Yoruba political leaders in Nigeria instead embrace Egun people in Benin Republic in place of Yoruba  because Egun politicians in Benin Republic  give them money, whereas Egun are oppressing us Yoruba in Dahomey (Republic of Benin). We have to be very careful.
Irohinoodua: How do you intend to raise funds for the project at hand?
Chief Tolulase: My intention is to call all Yoruba State Governors in order to conduct more research on this discovery. I want to introduce the Alphabet to them. I want us to have a big seminar on this legendary contributions of Yoruba to world civilization. Oduduwa Alphabet is an indication of Yoruba greatness. It will be a shame is we close our eyes to this until Oxford University comes here to do the research and take the glory. I believe the funds will definitely come after all.