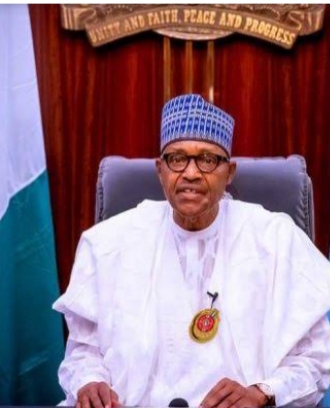 HEDA scores another victory in campaign against corruption as President Buhari orders probe of ex-DG, FIIRO over 18-year salary received with fake certificate
Igwe, former FIIRO boss may go to jail
By Abiodun Olowu
Nigeria's leading anti-corruption group, Human and Environmental Development Agenda, (HEDA Resource Centre) has again scored another victory in its time honoured campaign against corruption in high and low places.
An indication of this feat came during the week when the President, Maj. Gen. Muhammadu Buhari (retd), insisted that former acting Director-General of the Federal Institute of Industrial Research Oshodi, Lagos, Chima Igwe be investigated. Buhari asked the Independent, Corrupt Practices and Other Related Offenses Commission, (ICPC) to investigate the matter. If Igwe is found guilty, he may go to jail.
Buhari who has been bombarded with petitions from HEDA. Buhari also asked the Independent Corrupt Practices and other related Offences Commission, (ICPC) to investigate the scandal involving the former FIIRO boss. He was accused of collecting salary for 18 months using a Phd Certificate he never had.
In one of the petitions to Buhari and the anti-corruption agencies, Mr Olanrewaju Suraju had demanded the removal and prosecution of the former FIIRO boss who was said to have spend millions of naira trying to cover up his crime.
This week, Irohinoodua was informed that Buhari urged the Minister of Science, Technology and Innovation, Dr Ogbonnaya Onu, to stop his meddlesome role in the Institute's Governing Board.
Igwe claimed he obtained Phd from the Universite D'Abomey Calavi, Benin Republic, but at the time he claimed the Phd certificate which earned him promotion and salary hike, he  had not obtained the certificate.
The Institute was under intense pressure to sweep the scam under the carpet while the Board Chairman, Alhaji Ibrahim Gwarzo, was opposed to any attempt to undermine due process. It is widely believed that the Minister, Onu wanted to cover up the dirty tracks.
The President's letter dated September 7, 2021 and signed by the Senior Special Assistant to the President (Administration and Operations), Ibrahim Adamu rejected the attempt to foist Igwe on the Institute. The letter directed the governing board of FIIRO to "commence the process of the appointment of a substantive Director General in accordance with Section 2.1.3.3 (a) and (d) of the Conditions of Service for Federal Research and Development Agencies, Institutes and Colleges (Revised 2019).
The letter also asked  "the Honourable Minister of Science, Technology and Innovation to allow the Governing Board of FIIRO to operate freely within the ambit of the provisions of extant regulations guiding the relationship between the ministry and parastatals.
It directed "the ICPC to commence prosecution of Mr Chima Cartney Igwe for giving false information to his employer."