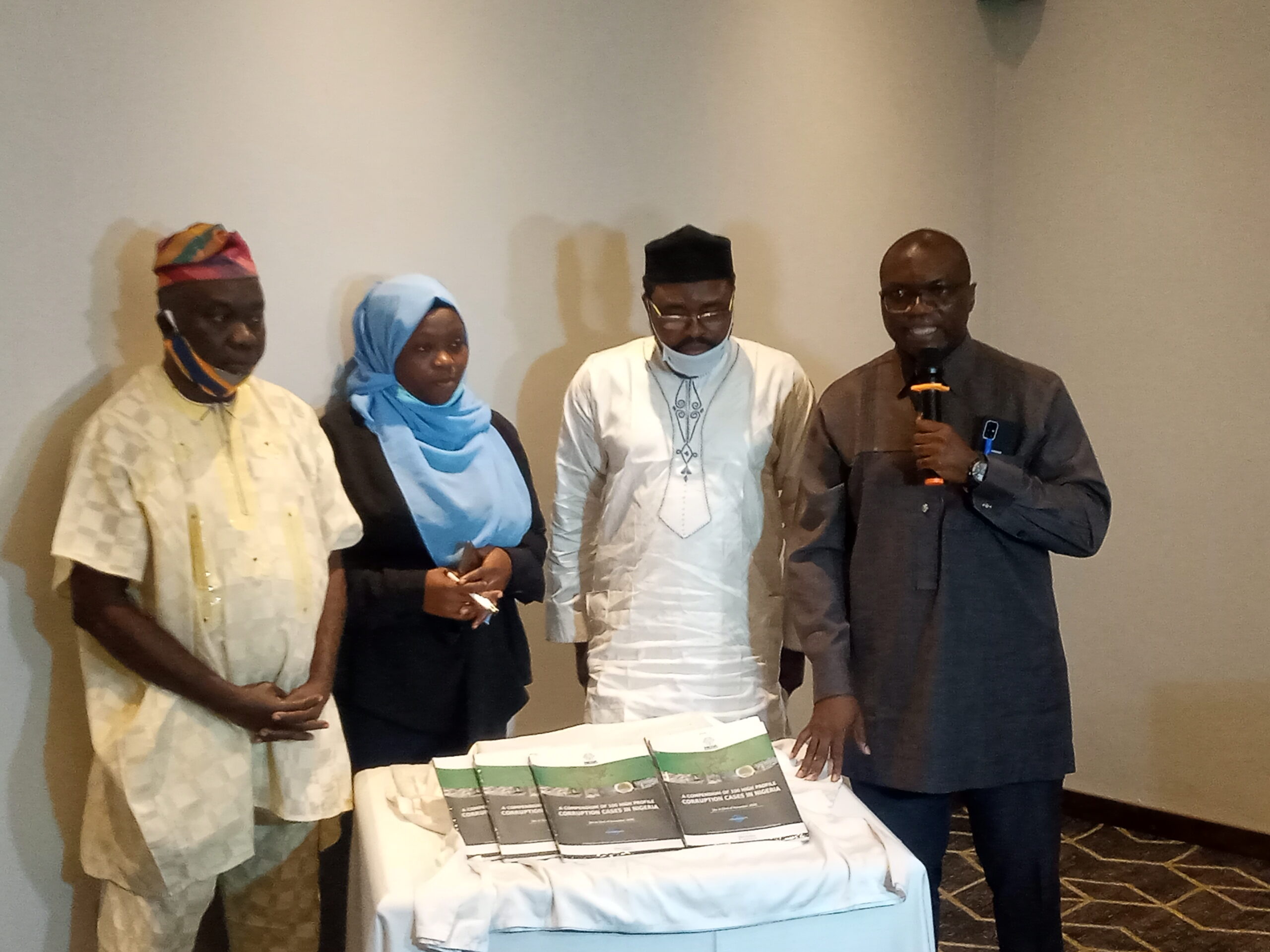 HEDA launches book on 100 high profile corruption cases
By Aisha Abass and Molade Adegbuyi
Some 100 high pitched cases of corruption in Nigeria total no fewer than N2trillion of public funds stolen by Nigerian officials.
The Human and Environmental Development Agenda (HEDA Resource Centre) at the launching of the compendium on Wednesday warned that corruption may wreck havoc on the country unless drastic efforts were taken to halt the tide.
Already corruption is believed to be fuelling violence arising from inequalities and economic exclusion see across the country.
HEDA chairman, Olanrewaju Suraju said that some of the high profile corruption cases were not widely reportted in the Nigerian media or reported without follow-up mechanism.
Speaking on Wednesday at the public presentation and launch of the Fourth Edition of a 'Compendium of 100 high profile corruption cases in Nigeria,' Suraju, said the government and public officials always pay their way in an entire administration of a fragile criminal justice system.
The event which was supported by MacArthur Foundation was organised to mark the World Anti-Corruption Day with the title, 'To recover with integrity'.
The gathering drew an impressive crowd of media, labour and leaders of civil society. Irohinoodua attended the event held at the Radisson Hotel, Ikeja in Lagos.
Mr Adeola Soetan who reviewed the book said Nigeria continues to present herself as the hub of graft painting a gory picture about the image of Africa's most populous country.
On his part Professor Itesiwaju Esanjumi Sagay (SAN)- Chairman, Presidential Advisory Committee Against Corruption who wrote the forward to the book wrote that
"Corruption in African countries is particularly devastating because it diverts already limited funds to a few unproductive pockets, undermines social welfare and economic progress, and impedes development.
He said the consequences are endless. "Projects are uncompleted, roads and other types of infrastructure are not maintained, work paid for by public funds, are substandard or abandoned."
Sagay said corruption creates massive unemployment, costs are inflated and poverty, pain, misery and underdevelopment are perpetually inflicted on the masses. Corruption increases the cost of doing business, waste resources, radically reduces state revenue, and creates a poor service delivery.
"This is also reflected in Nigeria's position in the Human Development Index which is a comparative measure of life expectancy, literacy, education, the standard of living, etc. It is a standard means of measuring the general well-being of the population of a country.
"Nigeria is always ranked near the bottom out of 188 countries, even though we possess enormous natural and human resources, unlike unlike other countries ranked with us in HDI. Corruption is the root of our low position in this index of the human standard of living".He said further
He said sadly, the clear consequences of corruption in Nigeria and the obviously vigorous prosecution of the culprits have not resulted in a decline in the rate and volume of corruption. The reason for this may lie in the fact that less than 5% of high profile public officers prosecuted for corruption have so far been convicted.
He argued that the major deterrent is the adverse publicity that prosecution brings to such people. But in a country in which wealth counts over character, the road to new integrity dawn in Nigeria continues to look discouragingly long and winding.
Mr Suraju stated further that corruption cases like other court cases do not initially enjoy any special sequencing since there were no courts dedicated to them. Consequently, sheer mentions and even trials endure with the citizens for a limited time only to pale into insignificance with time. Some citizens who tend to take keen interest manage to follow through the media if there are exciting dimensions that readily attract the media from some of the cases.
He said, "The situation has moved from graft to impunity; some even ensure that media houses do not report some of these activities. Court proceedings are not reported.
He also explained that the government was not telling Nigerians how some of the recovered assets were utilised.
He said, "But the integrity question is that the government is also not coming forward with sufficient information on the utilisation of some of the recovered assets. We must continuously challenge the system."