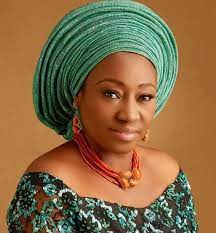 Group condemns veiled attacks on Ekiti First lady, Erelu Fayemi
By Segun Adaba
The Ekiti Independent Support Group (EISP) has condemned veiled attacks on the Ekiti State First Lady, Mrs Erelu Bisi Fayemi.
The group frown at hidden hands criticizing assumptions that Mrs Fayemi's hands are deep in Ekiti politics citing a piece by someone using pseudonym.
"The writer also alleged that Erelu and the governor's chief security officer (CSO) in cahoots with the leaders of the drivers' unions in Ekiti State, namely Mentilo and Oshopolor, were plotting to attack opponents in the January 27, 2022 APC governorship primaries  to aid Biodun Abayomi Oyebanji's success,' the statement signed by Olufemi Dada stated.
The group said it would not have responded to the write-up that "neither has intellectual depth nor shows simple tact and reasoning, but for the sentiment of the times, a response will suffice to put the records straight."
Dada said "While we sympathise with the writer for agonising over the looming defeat that stares his preferred aspirant or aspirants in the face, we will not allow the lies and bile contained in the write-up to go unchallenged."
The group said the write-up, sadly lacks informed content of an educated commentary but rather "laced with bile, invective, inaccuracies, outright lies and threats, and we believe this is not the best of times to engage in fruitless and belligerent exercise to distract Ekiti people from a peaceful transition election for the benefit of Ekiti people and their thirst for sustained development."
The group accused the writer of having a memory fueled by dishonest instinct, fear, frustration, hate and bile adding that the faceless writer alleged that Erelu Bisi Fayemi was the Chairman of the Transition Committee in 2018 where she allegedly started her manipulation process just to strengthen his hate campaign against the innocent First Lady. But the Transition Committee was actually chaired by Senator Olu Adetunmbi who was the Chairman of the Transition Committee in 2018 and not Erelu as alleged.
"Erelu was only involved in the Inauguration Committee, and it was on record that she led the committee to organise one of the best governorship inauguration programmes in Nigeria," Dada said.
The group said the writer also ignorantly insinuated that Erelu is a stranger in Ekiti State.
"Really? What do Ekiti custom and law of Nigeria say about a woman married to a different culture or new environment? Does Erelu need a visa or nationality identity card if diplomatic ticket is what is required of her to enter Ekiti soil?", the group asked.
Dada said  Erelu is a bona fide Ekiti indigene supported by  the nation's law and custom of the Yoruba, and, indeed, Ekiti people by a simple fact that she is married to Dr John Kayode Fayemi (CON).
"The masked writer also fumed that Erelu was supporting the governorship aspiration of Biodun Abayomi Oyebanji (BAO) as if her life depended on the former Secretary to the State Government to survive. Really? So it was Erelu's spirit that entered  thousands of party supporters who urged Oyebanji to join the race?", Dada quipped.
 "Was it Erelu's spirit that also forced thousands of supporters to receive Oyebanji in Ikere-Ekiti enroute Ado-Ekiti after obtaining governorship nomination form in Abuja that took almost three hours journey in a locked traffic to arrive the state capital from Ikere-Ekiti in a drive that should ordinarily take 15 minutes?"
The group said as a world brand, Erelu's name cannot be erased in Ekiti development history, having used her NGO and personal resources to turn around the fortunes of Ekiti women, widows and young girls for good.
Her records of performance as a First Lady is unassailable. As a humanist, Erelu will continue to deploy her energies and resources in defence of humanity in any environment she finds herself.
Our advice to the writer of the anonymous write-up and his sponsors is that instead of weaving their woes and rejection by Ekiti people around the non-existent Erelu genie,  they should make themselves available and accessible to Ekiti people. They should embark on activities that turn around the fortunes of their people for good.
 It is not enough to indulge in an off four-year seasonal  politicking and expect a large support base as BAO is enjoying among Ekiti people today.
Instead of fearing the shadows of Erelu Bisi Fayemi for her worth, the woman is an accomplished tutor in the art of humanity who is ready to school those who hate service delivery the art of benevolence for communal peace and development.
Instead of attempting to deceive Ekiti people by employing rhetoric and lies, we urge competitors to engage in rigorous issue-based campaign in a non-violent manner rather than sliding into tirades, self-inflicted anger and threats of attacks on the hard-working, innocent woman.
* Olufemi Dada
Coordinator