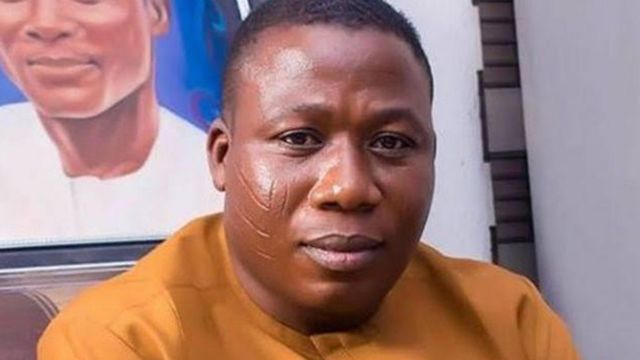 Group alleges DSS denial of lawyers' access to detained activists arrested in Igboho's house
……Says female victim ill without medicare
By Bunmi Ajao
Pan Yoruba activists arrested at the home of Chief Sunday Adeyemo (Igboho) since July 1 have been denied access to their lawyers, a group said on Thursday. One of the victims, a female blogger is ill and needs urgent medic attention.
In a statement released to the media and made available to Irohinoodua, Mr Olayomi Koiki spokesperson for Igboho said the suspects are being kept in underground cells in Abuja act he describes as "continuous reckless abuse of the fundamental human rights of political detainees."
He said they were arrested by the DSS at the residence of Chief Sunday Adeyemo Igboho on Thursday the 1st of July, 2021, "during the most bizarre gestapo and unlawful raid of Chief Sunday Adeyemo Igboho's home."
Koiki said "These political detainees caught in the crosshairs of government's capricious abuse of official power have since been held underground under lock and key, and remain incommunicado from their lawyers and families."
He said all attempts by their lawyers to meet with them as prisoners of conscience at the DSS Headquarters, Three Arms Zone, Abuja yesterday the July 5 and July 6 have been rebuffed by the DSS.
He said official explanation was that the DSS were acting on "orders from above."
He said the legal team had requested for visitation rights to the detainees and highlighting the constitutional propriety of such a visit adding that the DSS had remained adamant.
He said "It is important to state that two of the detained individuals are in need of urgent medical attention, particularly the female blogger and although the DSS are very much aware of her critical health condition which requires urgent care, they've refused to act on same. It goes without gain-saying that we will hold the DSS and its entire hierarchy liable should any harm befall these detainees."
He said having been briefed by the legal team and aware of the fundamental human rights of every Nigerian, "we are well aware that these detainees have the right to legal representation which involves intermittent consultation with their Legal Team even in detention."
He said by ignoring clear constitutional provisions, the DSS have acted in excess of their powers and are now in travesty of our laws.
"The haughty reply that only 'Orders from Above' will be acted upon with regards to these detainees is indeed cause for grave concern as it hints that the DSS are prepared to disregard due process, abuse its powers further and suppress the fundamental rights of these political detainees."
Koiki said due process and unreserved respect for the rule of law must dictate the actions of the DSS.
"We do not intend to relent in seeing through the respect of the human rights of the detained individuals and all avenues at the judicial, civil society and international level will be deployed in this regard" he said