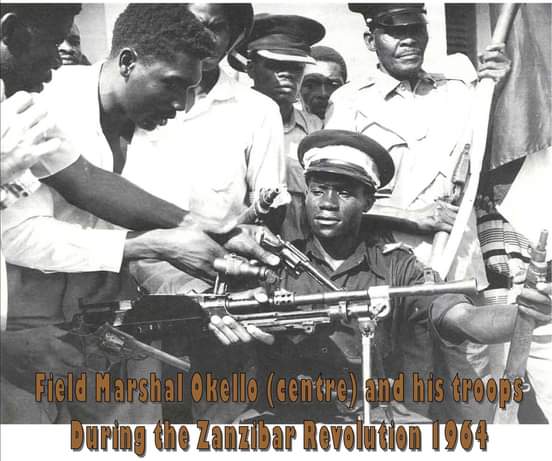 General Okello: The Story of an African Military icon that fought for Revolution but till date disappeared and never found
FIELD MARSHAL JOHN OKELLO
The country is Zanzibar, the year is 1964 and the man is Field Marshal John Okello. A humble boy with a simple beginning, who became an orphan at only 11 years old, born in a remote village in Alebtong District Lango sub-region; John Okello would not only change his own history but more importantly, that of the Arab ruled African country Zanzibar.
At 15, he left home in search of a better life and ended up doing factory and manual jobs first in Eastern Uganda, Kenya and finally Zanzibar where he attained the greatest military rank of Field Marshal in 1964. While in Zanzibar, Okello joined freedom struggle for the black population in Zanzibar.
Zanzibar had for hundreds of years been under the strong colonial rule of the minority Arab slave traders. They heavily oppressed the black population reducing them to miserable subjects living in poverty with no hopes of ever ruling their motherland Zanzibar. In the early 1960s most countries in Africa were gaining independence but Arabs in Zanzibar were not ready to leave.
In 1963, Okello began to recruit, train and mobilize troops to fight the Arab rulers. Although poorly armed with rudimentary weapons like bows and arrows and a few modern guns, Okello's troops of 600 fighters attacked and defeated the Sultan defense in a nine hour war forcing the Sultan to flee to England. After marching triumphantly onto Stone Town the capital of Zanzibar, Okello went on air in Radio Zanzibar and announced the takeover of Zanzibar declaring himself Field Marshal of Pemba and Zanzibar. In the announcement he ordered the Sultan to immediately kill his family and himself afterwards, and warned that if the Sultan chose to disobey his order he (Okello) would move to perform the act himself. However, as the hard announcement went out, the British had already rescued the Sultan to safety in England.
After securing the control of Pemba and Zanzibar, Okello instituted Revolutionary Council of Zanzibar but declined to lead the island. Instead he invited an exiled opposition leader Sheikh Karume exiled in mainland Tanganyika by the Sultan to assume the position of President. On arrival on the island, Karume was welcomed and taken to the national radio by Okello who introduced him to the nation as the new President of Zanzibar.
In his acceptance speech Karume made the following remarks:
"………I am glad to say that under the wise leadership of Field Marshal John Okello, we have reached a goal which we alone could not achieve. I must express my thanks to the freedom fighters through whose efforts I have become president and to Field Marshal Okello whose fruitful leadership was accepted by you. My being President is due entirely to your strength and energy. I want all of us to work in unity to obey Field Marshal John Okello as any person born on this island without any form of discrimination. Without his wisdom and courage, none of us would be where we are at the present. Field Marshal Okello's activities clearly show he is a man born with African liberation in his heart and we of this island are actually happy to have had him achieve our freedom so quickly."
However after a few months in his Presidency, Karume started planning to get rid of Okello. And soon, when Okello travelled outside of Zanzibar, President Karume declared him enemy of the state and blocked his return to the island. In fact the plane carrying Okello was prevented from landing in Zanzibar and later on landed in Tanganyika.
THE FALL OF FIELD MARSHAL OKELLO
After appointing Mr Karume President, Okello formed a paramilitary unit called Freedom Military Force that could patrol and secure Zanzibar. However the paramilitary were accused of being involved in looting.
John Okello, a Christian, born in Uganda could only be tolerated by Zanzibris for as long as he was useful but he quickly became undesirable by the predominantly Muslim society of Zanzibar. It is also reported that he spoke Swahili and English with a strong Luo accent that only served to isolate him more.
Probably most important is the suspicion by Presidents Nyerere and Karume that Okello was working to unite Zanzibar with Kenya as opposed to their dream of a political unity between Nyerere Tanganyika and Karume Zanzibar. In fact immediately after Okello was removed Nyerere and Karume united the two countries to become one nation Tanzania in 1964. Interestingly Okello reports in his book "Revolution in Zanzibar" that his close association with Kenya made Nyerere fear he would unite Zanzibar with Kenya instead of Tanganyika.
OKELLO'S DEATH
After the rejection from Zanzibar, Okello became undesirable within the East African region. He was deported to Kenya from Tanganyika. He then left Kenya for Congo Kinshasa before relocating to Uganda during Amin's first year in power. It is reported that he was seen with Amin before he disappeared till today. It is also thought that Amin saw him as a threat and eliminated him.
Quotes from Okello's book, "Revolution in Zanzibar"
" I understand African thinking and I understand that what I did in Zanzibar, had it been in any other country for the sake of Africans I would still have been judged wrong and borne blame. But I acted alone during the revolution and had to remain alone afterwards. If anyone can claim he was with me during the planning and thinking through of the revolution let him come forward and explain it."
"And I believe that a good thing done by an African for his brothers in need may in future be turned against him. Yet there are people on earth who will help others at their own risk….."
Published by MITKOM MEDIA