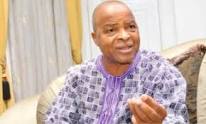 General Akinrinade blasts Obasanjo, says Former President Lacks Integrity
By Samuel Ogunsona
Respected General Alani Akinrinade has asked former President Olusegun Obasanjo to steer clear of the Presidential election result, describing him as an interloper.
In a statement made available to Irohinoodua, Akinrinade condemned the former President Olusegun Obasanjo statement over the recently concluded elections.
He said his position should be condemned in the strongest terms by democracy loving Nigerians and those who care about the unity of this country.
Akinrinade who was a Chieftain of the National Democratic Coalition, NADECO said Obasanjo statement coming at a time when the Independent National Electoral Commission was still busy with the conduct and release of the elections results is both unfortunate and a glaring and calculative attempt to game the system.
"Without any shred of evidence a former President is challenging the integrity of a national elections and calling a seating President to truncate it midway" Akinrinnade said.
He said as a General who fought for the unity of Nigeria and one that has witnessed the many twists and turns of our Democratic development, he is certain that Nigeria this time is on the right path.
"I find it most disturbing and objectionable that a former General and President will introduce such a diatribe into the body politic of Nigeria at such a delicate time as this. Being not neutral, Obasanjo's intervention falls short of patriotism and fits perfectly into meddling in the affairs of state that is already the constitutional responsibility of INEC."
He said Nigerians can easily recall the Obasanjo years and his antics and many bullish attempts at circumventing the political process.
"I call on President Muhammadu Buhari to ignore Obasanjo's recent interruptions and focus on supporting the lawful institution to do its job by allowing the process to run it's full course.
"The President Buhari I know will let the process run its full course and will not intervene in an undemocratic manner to truncate the ongoing political process."
Akinrinade said luckily, President Buhari is made of finer and more principled democratic stuff. He will not allow Obasanjo to lure him into tainting his democratic credentials in this regard.
He recalled that in his last trip to the United States, President Joe Biden praised Buhari's commitment to democratic values and principles adding that Obasanjo has no such record to be applauded.
"The world has not forgotten his fraudulent and undemocratic attempt at a third term agenda in violation of the letter and spirit of the Nigerian constitution.
In 2007, after his botched third term bid, Obasanjo conducted the worst election in the history of Nigeria. The beneficiary of that electoral heist, Late President Umaru Yar'Adua openly admitted that his presidency was a product of a fraudulent election with a commitment to reform the electoral process."
He said Nigerians have voted. Their votes have counted. "Let no one disrupt the process."