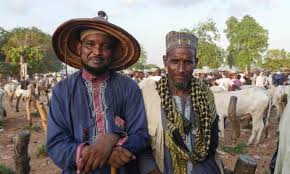 Fulani from 16 countries hold Global meeting in Abuja
By Aliu Bakare
Fulani from some 16 countries across Africa have converged in Abuja for a global meeting.
The theme of the conference is partly to debate and take resolutions on the future of Fulani herdsmen across many countries in Africa. The meeting began on Thursday and it is expected to enter into strategic sessions.
"Our agenda is to look at security of our lives and property. We are looking at existential threats to Fulani all over the world. Security is paramount in the agenda" Nassir Conte one of the delegates from Senegal told Irohinoodua in Abuja.
He said the Fulani have the right to debate their future just like any other ethnic group. He said some of the issues expected to be debated at the Conference are the threats to culture, heritage, language and civilisations of the Fulani people.
He however said the most important issue to the Fulani now is security.
The Fulani spread across West Africa are about 20million with some eight million of them in Nigeria, considered as the only country where their influence in politics and economy is most profound.
The theme of the conference is "The Future of Fulani Pastoralists in Nigeria"
The event held at the Transcorp Hilton Hotel, Abuja.
The National President of Miyetti Allah Kautal Hore, Alhaji Bello Abdullahi Bodejo the conference "was meant to find lasting solutions to issues of insecurity confronting Nigeria, with a view to having a meeting with Fulani in 16 neighbouring countries, to know whether the insecurity situation in Nigeria is also affecting them."
He said if the Fulani were not affected
why is it that Nigeria is passing through this?
He said "We will also go to the Niger Republic. We would also go to the forests to meet and find out what is actually happening."
He said there are delegates from 16 neighbouring countries.
"After this summit, we will come out with a paper on the way forward," he said.