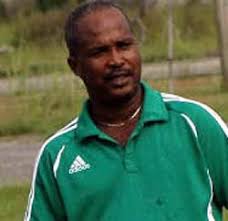 Football icon, Henry Nwosu – Touched by the Lagos Governor, Sanwo Olu
By Segun Odegbami
This is an update, a responsibility I owe the world after my announcement of Henry Nwosu's plight some months ago, and the developments thereafter.
Permit me a little philosophy.
In my humble understanding, the Creator stopped interfering in the affairs of His Universe following the completion of his work at the beginning of time.
Thereafter, he gave his creations the free will to creat their own future in accordance to their choices, with consequences in the eternal nature of 'action and reaction'.
All humans are Messengers, each with varied 'gifts' to impact their world for good or bad. 
A few Messengers become special when they choose to positively touch and impact other's lives, soothe their pain, nurse the sick, help the poor, feed the hungry, heal the environment, in short, make the world a better place for all to live.
Those that do these things assume the status of an Angel when they do not demand anything in return – not even an acknowledgement of their act.
A few months ago, Henry Nwosu, a famous, former Nigerian football hero and legend, an Olympian, OLY, and distinguished Member of the Order of the Niger, MON, was at the gates of death. A man blessed by the elements to be in a position to help him, rose to the challenge, took up the responsibility and brought him to Lagos from Asaba for medical care.
Henry Nwosu arrived in Lagos, a walking- dead.  Since then, things have taken a new turn with the best health facility and the best medical specialists in the State deployed to handle his delicate heath situation.
It's been a few months.
Not for one day has this benefactor sought a single publicity (infact he has avoided it like a plague) or even gratitude for his actions. He insisted that everything to be done for Henry will be paid for from his personal purse and without recourse to public funds. He insisted also that no credit should come to him for anything done.
This morning, the two gentlemen that have piloted this whole matter since Henry landed in Lagos, Bestman Jumbo-Nze (Special Assistant on Youth Matters to the Governor of Lagos State) and Patrick Doyle (President of St. Finbarr's College Old Students Association, Lagos) and I, met at Henry Nwosu's new apartment in Lagos to review the situation.
We were so excited about his progress that we decided to breàk our unwritten 'promise' and grant Henry's request to publicly acknowledge and thank his benefactor.
Henry described him as the angel sent from heaven to grant him another chance at life.
Indeed, watching Henry closely this morning, although with still some ways to go, his recovery can only be attributed to the touch of an angel. 
That angel is Mr. Babajide Olusola Sanwo-Olu, and not in his exalted position as Governor of Lagos State, but as a human being with the blood of 'humanity' flowing in his veins.
Mr. Sanwo-Olu has personally funded ALL of Henry's medical expenses, a fully-furnished rented apartment in Lagos, and the cost of his welfare during the undated period of his recuperation.
Meanwhile, this is not intended to diminish in any way the size of support of several individuals, friends and family members that have also helped Henry in their own ways. 
Today, Henry Nwosu is healing fast and well, making slow but steady progress. He is improving with every breathe and every stride.
In his new apartment this morning, through emotions, Henry's voice came alive again, with his pains mostly gone.
Throughout our stay, the words coming out of his mouth were of gratitude to Mr. Sanwo Olu. Since we could not stop him, I captured them for the world to hear.
The second picture is of Patrick Doyle, Bestman Jumbo-Nze, Henry Nwosu and yours truly.