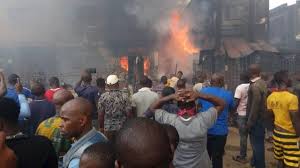 Fire breaks out at Lagos Balogun market
By Ilori Olubayo
There was fire outbreak this morning at the popular Balogun Market in Lagos.
Sources told Irohinoodua that the fire caught the traders unawares
'The fire started in the morning. It spread like hell. The whole shops and warehouses have been engulfed. We are not certain if any life has been lost, but we are sure the property lost will be in the range of billions of naira" Alhaji Mutiu Oluwatobi told Irohinoodua this morning
He said the traders were not sure of the source of fire and that efforts by the traders to put off the outbreak had failed.
Balogun market is the largest trading outpost in Western Nigeria and arguably the biggest in West Africa serving various parts of the country.
The market has been in existence for close o a century.
In his reaction, Mrs Tejumola Adele, an official of the local traders' association in the area who spoke to our correspondent urged the South West state governments to investigate the constant incidence of fire outbreak in the South West area.
According to her "We have grounds to suspect sabotage by some foes. This week, it was Sagamu, late last year, it was Ibadan and this year alone two Lagos markets have witnessed serious fire outbreaks. The pattern is unusual," She said
| | |
| --- | --- |
| | |